Let me start this by saying I'm the unidentified QUEEN of blowing my money on the fun, wild, sequined-crop tops, wear-once jumpsuits, platform shoes kinda gal, and for some reason I still am disappointed at the thought of shopping for the things I'll wear every day instead of once in a lifetime. It just doesn't sound as fun or appealing. But as I've gotten into my ripe old age of 28, I've realized how exhausting it can be to dress down a cheetah blazer and velvet pants just so you can look casual while heading out for coffee. A gal's gotta have those perfect basics that work with any look, so that you can dazzle up or dress down your pieces. Check out all of LAFM's top 15 picks you need now, below!
The BBH (Basic Black Heel): We all need it, and many of us have a well-worn pair lost in our closets, the BBH is a tried and true must have. And no need to go break the bank to get a good pair, hit up your local Zara and grab these chic ones!
2. A Classic Shirt Dress: No matter how fashionable we think we are, without a basic like a classic shirt dress that you can effortlessly throw on and look fab it, are we really that fashionable??
3. The Velvet Tuxedo Jacket: You may not think you need it, but trust me, you do. Throw it on with a white tee and a pair of jeans and hit up that dinner meeting, grab a black pant and you've got the insanely chic menswear red carpet look, it works with literally anything!
4. The Jeweled Sandal: I know this article includes the title 'basic' in it, but let's be honest, every gal needs a little basic embellishment on their feet. These Tory Burch sandals are great because the neutral cream strap balances out the gemstones, making them the perfect piece to add to your look and say 'Oh thanks, I just threw this together!'
5. A Satin Skirt: There's a reason everyone and their mother has one of these-they're a closet staple! Pair it with a cutesy cropped sweater, or tee for a casual 'french-girl chic' look, or that tuxedo jacket for an elegant night on the town!
6. The Perfect Summer Sneakers: How cute AF are these Brooks Brothers white sneaks with the red back?!?! These are the kind of basic staples that will never go out of style, they're classic with an edge, and perfect for every season, brb while I order a pair for every season…
7. The Carry-All Bag: Elevate your style with a basic that's full of style, the Tory Burch Perry Tote in Camel. Whether you're traveling, need a great tote to tote around the office, or just need something to throw everything you own in like me, this one works for it all!
8. A Button-Down Shirt: The least fun but def the most useful is this short-sleeve button down shirt. How many times do you kick yourself for buying the crazy vintage sequin 80s top instead of something actually practical? Oh just me? Well still, this top works for anything and everything!
9. The Go-To Trench: Breakfast at Tiffany's dramatic ending wouldn't be the same without Audrey Hepburn and George Peppard searching for her cat in the pouring rain in some extra-fashionable trench coats #TrenchedinLove?! We all need one, brands bring it back every season because it never goes out of style. So do yourself and your closet a favor and grab it now!
10. A Cute And Practical Work/Live/Play Blouse: I'm so not an ultra-feminine style girl, but I saw this lil J Crew Satin mock-neck top, I was shooooook. It comes in cream, blush and black, and is the perfect addition to your favorite denim, or thrown with that uber sexy pencil skirt for work.
11. Slightly High-Waisted Denim: Not all denim is created equal, and the GRLFRND denim every celeb seems to favor is certainly top-tier in the equality chart. They're just high-waisted enough to be chic, but not too high waisted to put you in the Mom-Jeans Zone.
12. The Go-To Floral Dress: One of Anna Wintour's favorite prints is a floral…for Spring? Groundbreaking…but seriously, girlfriend wears a floral pattern ERRWHERE. So why not be like Anna and get a classic and fun floral dress for your closet? Pair it with a leather jacket to toughen it up, or a cutesy heel to add that fem touch-either way it's a must-have!
13. The Blazer: I've been to London, New York and LA and seen girls in all three cities rocking the blazer with white tee and jeans look. It's truly the un-sung hero of your closet, the ultimate staple, and Halogen makes a great fitting style!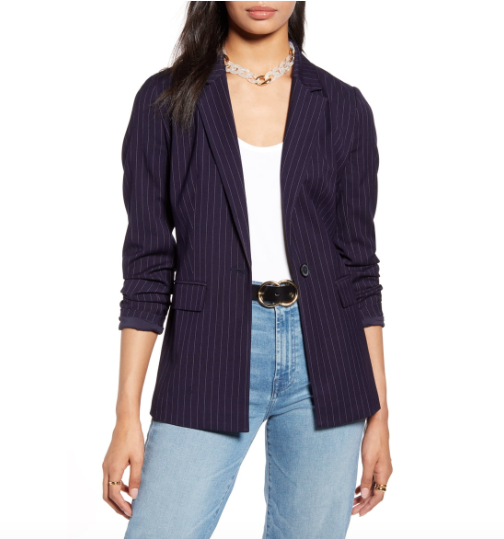 14. The Leather Leggings: These leather leggings are def #worththesplurge. They're high-quality and also form fitting to show off those pipes of yours! Get them today, below.
15. The Suede Moto-Jacket: Like everything else on this list, a moto jacket is a must-have. Whether you're more of a leather than a suede gal, you need this jacket style because it truly works with anything!