How is it possible for a designer to be fearless and vulnerable at once? It's talent, determination and making strong choices. It's an elusive combination that Brandon James has accomplished. I was honored to experience the 'B. James Experience' — an urban, on point and fresh runway fashion show at The Think Tank Gallery in downtown Los Angeles. Brandon James debuted 40 different looks from his line that featured designs such as a Shell Toe Adidas dress and leather jackets with pops of color. Brandon presented an impressive show that delivered a 90's hip hop, street style vibe. It resembled references to his past but brought the audience to the future.
The show represented a fresh and playful energy. Brandon (also known as B. James) is young and talented with a fun spirit. He is smart to tap into the right generation (young and fierce) at the perfect time in fashion. Joy Rich Bullard of The Style Barre Showroom  assisted in hosting and producing the event and represents Brandon James. Photographer  Yoshawn Smith took all images and captured the evening perfectly.
For a bit of backstory, Brandon's surroundings had a great impact on his creativity. He grew up with sickle cell anemia and wasn't able to do all of the normal activities like his siblings. Brandon explained that most of his time was spent on his grandmother's porch playing on a tire swing that his granny made. However, this sparked inspiration as he watched traffic, nice cars, and well dressed, flashy people return from work. He was intrigued by individuals who looked as if they were millionaires by the way they were dressed.
For his recent show, I was astounded that he produced 40 looks. Brandon explained his concept was inspired by both a strong vision and a collaborative creative process that grew from within. "I watched a lot of the high-end fashion shows… Dior, Gucci, Fendi, Philip Plein, Jeremy Scott and figured why not do the same" James said.  He did just that. He made 40 his goal and stuck to it.
There is also a bit of nostalgia that is incorporated into Brandon's collection. I love this since I notice that most great designers take memorable moments from their childhood, icons they admired and incorporate these elements into their collections while still keeping their astute eye on the future. "The collection meant so much to me because it described my journey from a kid sitting on the porch of growing up and being able to take those memories and add them to what I know now," James expressed. He went from watching Soul Train and BET to currently observing real fashion shows. In this way, B. James can draw upon a wealth of insight and inspiration and fuse past and present.
Brandon is also bold in his choices. – He is not afraid to use bright pops of bright color in his apparel and accessories. It's a strong aesthetic. When it came to his choice of colors, he has always loved bright, electric colors so he took five of his favorite colors he loved as a kid: red, royal blue, yellow and green. He added black and white later to balance out the creativity. When it came to the Adidas finale piece, he has a touch of history with the shell toe Adidas shoes. His mom had five boys and it was simply impossible to always buy every kid the most expensive shoes but the shell toe Adidas with the one shoe that were affordable and popular. Ironically, after seeing the hip hop artists wear them they became Brandon's favorite shoes.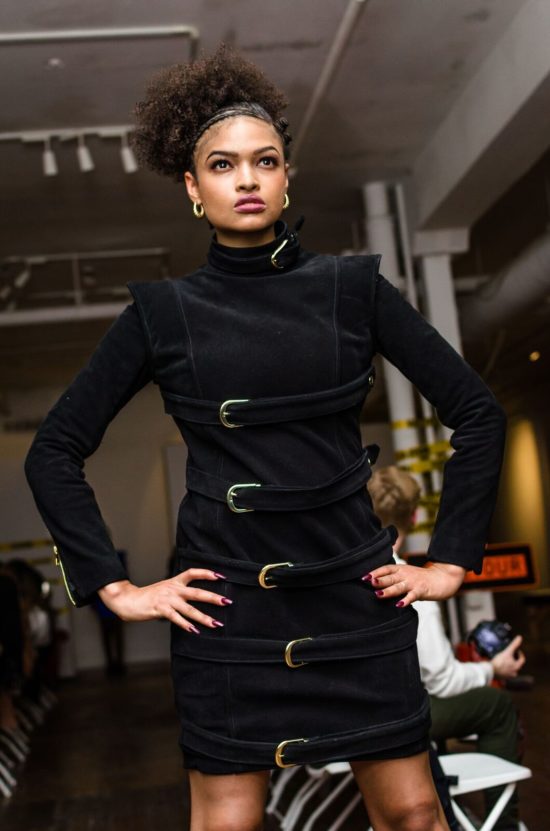 For present day inspiration, if he sees someone "on the street", in a cafe, etc. and can see himself wearing or designing it,  it can spark the imagination. Brandon mentioned that it could be an simple as an earring.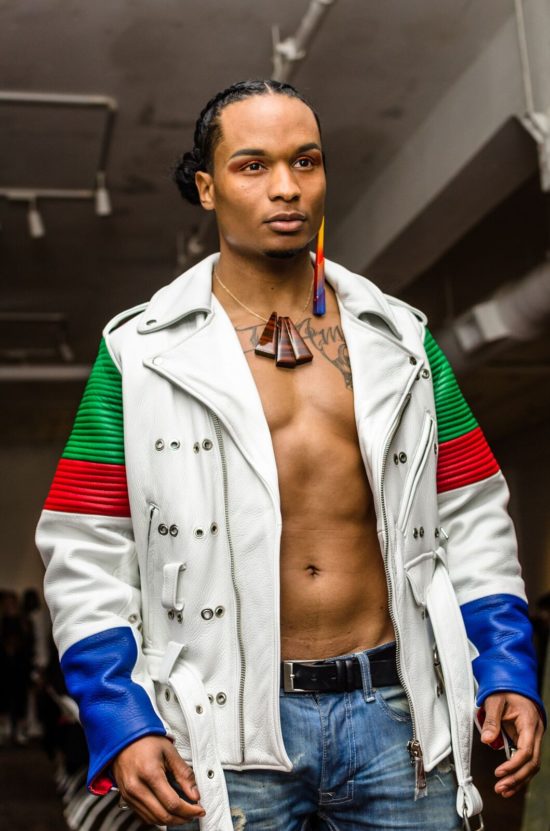 His future goal  is to do a show every year and Brandon's next show will drop next year around the summer of 2018. Personally I can't wait! James admitted that it can be scary and vulnerable to put yourself out there but great at the same time. He's taking risks and following his dreams. B. James is always ready to learn more about the next step and up for the challenge. Brandon said "I can't explain how grateful I am to have Joy Rich Bullard and the Style Barre team here with me to guide me through this journey. Joy knows how to balance me out and calm me down when I overthink sometimes." "She came along at the perfect time and I couldn't ask for a better person or team to work with," James added.
Brandon James is the type of designer who is exciting to watch. He keeps you guessing and he will be headed to Awards show designing for hip hop artists who are ready for B. James.
Additional Credits:
Credits: Stylist: Xavn The Moor, Aoki Chienne Runway Coord: Josephine Holdbrook Set Design: Aliyana Hair: Hair Farm Salon Franklin Showroom: Style Barre
All Images are courtesy of Yoshawn Smith
@satorial.losangeles
To learn more about Brandon James visit his IG or stylebarre.com