The People's Choice Awards came and went this past Sunday in Los Angeles, and of course there was some elegant and unique as well as wild and wacky red carpet looks! We've rounded up The Good, The Bad and the just-plain Ugly of all the celebs red carpet looks this year, take a look below!
The Best Dressed List:
Kourtney Kardashian killed it in this glam diamond-encrusted suit by Naeem Khan. Bralet with an open suit jacket? Check. Sleek hairdo? Check. A fierce attitude? Double Check!
2. Kelly Rowland showed off her sleek and toned figure in this illusion dress by Iris Van Herpen. Can you say style and a hit of magic?? 
3. Joey King's Attico mini dress is perfect to complement the starlet's quirky personality with a very stylish touch!
4. Zendaya in this Christopher Esber gown with a geometrically open mid-section once again puts her on the top of our list as one of the most fashionable movie stars! Complete with a chic updo and a red lip, and we're in love!
5. We're dying over this bright white Victor & Rolf high/low collared and ruffled gown Karen Gillan wore on the red carpet. It perfectly accentuated her features while also bringing a unique approach for her personal style!
6. Bellamy Young was super sexy in this Prabal Gurung plunging gown. Fashionable and a showstopper? Girl we love it!
7. Kandi Burress white mini dress was short and sweet and showed off all of her curves! We love this look almost as much as we love Kandi on Real Housewives of Atlanta!
8. Brittany Snow's Great Gatsby-looking metallic gown by Temperly London is literally giving us all the feels, let's pop that champagne and dance the night away!
9. Storm Reid has quickly become a fashionista as well as a burgeoning young starlet, and this funky Iris Van Herpen plunging mini dress is no exception! We love when celebs take a risk, especially when it means they look unique and stylish!
10. Karamo Brown may be the 'Culture' guy on Queer Eye, but this J Gerard Couture look he wore is having us think he should be the 'Fashion' guy! Look out Tan France, Karamo and his flawless fashion is coming for ya!
11. Morgan Stewart's Daniele Carlotta sparkly mini dress was a def a hit on the E! Fashion News Host! We love the black and white aesthetic and the puffy shoulders-hello fashion statement!
12. Who knew House of CB would look so chic on the red carpet?! When we saw this metallic magic on Jackie Aina we were blown away. Short, metallic and a ruched look?? Heading to the Melrose location ASAP!
13. Jeremy Scott in, Jeremy Scott…need we say anything more?
14. Lucy Hale stunned in this Cong Tri satin black jumpsuit. Fitted and fabulous, Lucy Hale's personal style is just a fierce and unique as her Pretty Little Liars character, and we're here for it girl! 
15. Kaitlyn Bristowe's Bao Tranchi Mini sequined suit dress was def a risk worth taking! The look fit her perfectly and was also soooo fun we can't even! We need one in our closets ASAP!
16. Joey King's younger sister Hunter was red-hot in this Nathalie Karam short suit-dress. We always love a pop of color on the carpet, especially when its Moulin Rouge red! Get it girl!
17. YouTube star Rickey Thompson's Givenchy green power suit was monochromatic and mesmerizing! We love the belted jacket and gold rings accent added to it as well! Killin' it!
18. Last but certainly not least is Gwen Stefani in this custom Jeremy Scott black and white couture gown, with a party-in-the-front, Paris haute couture in the back element. Paired with some Stuart Weitzman stilleto suede boots and a classic smile, we're way more than on board-we're living for it!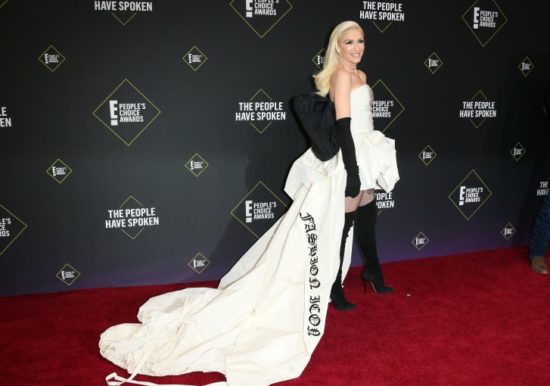 The What We They Thinking Looks?!?!?!
While we always love a structured dress a la Victoria Beckham, Kat Dennings's structured asymmetrical pinstripe and orange look is giving us more paper mache arts and crafts project than elegant and funky red carpet look.
2. We're not sure if it's the huge satin yellow bow or the ill-fitting mini ostrich-feathered dress, but Tamera Mowry-Housley look at The People's Choice Awards was just way too much for us-go for something slim-fitting and classic next time girl!
3. While we do appreciate that Kyle Richards new 'do is giving us very sexy Demi Moore vibes, this strangle all white suit with a mesh top is in the same category as Celine Dion at the Oscars weirdness. Def a miss!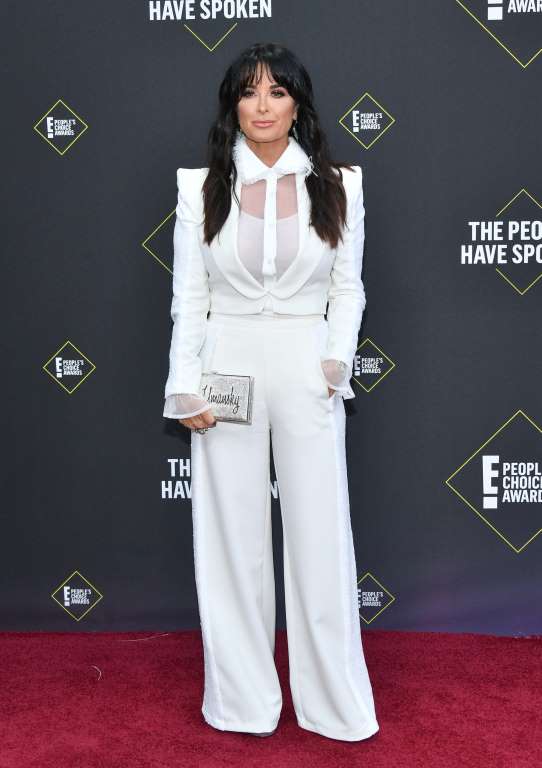 4. Kelsea Ballerini's Raisa Vanessa tulle two-piece gown was definintley a risk, and not one we'd like her to take again. Pink, ruffles, tulle, a two piece set with a mini skirt? There are way too many fashion moments happening, next time Kelsea stick with one!
5. Lala Kent Afffair brown and pink satin corset gown was anything but an Affair to Remember at The People's Choice Awards this year.
7. While we always love a kick of color and jumpsuit, Natassja Bolivar Naeem Khan look was more music video then red-carpet worthy, it's a big miss for us!
10. Here we are sitting here wondering what fairytale-Cinderella-ball Raquel Leviss Glaudi thought she was going to when she donned this Johana Hernandez sparkly, one shoulder cape, gold jumpsuit disaster in the red carpet.
11. Hannah Brown's mermaid-meets-turtleneck-meets-halter dress was all too much was all too much look for the former Bachelor contestant. Next time go with a classic and elegant look with a touch of funk to elevate your personal style girl!