Millennials have proven themselves to be a generation filled with driven creatives who embody an inherent entrepreneurial spirit and digital savvy. Rather than sticking to the conventional paths of their predecessors, they use these skills to navigate the career of their dreams by their own terms — often at a very young age.
This is certainly the case for contemporary digital artist and young businesswoman Sukesha Ray, whose distinct artistic style creates a dream-like visual interpretation of modern pop culture. What began as a passionate hobby for Sukesha has budded into a highly successful business that allows her to collaborate with other creatives around the world. From creating artwork for world-renowned DJ's to designing apparel for brands and globetrotting, Sukesha is on a never-ending mission to change the world, and the big dreamer won't be slowing down anytime soon.
A recent college graduate with a B.S. in Chemistry, Sukesha intends on pursuing a career in plastic surgery as she continues to climb the ranks in her artistic career. Her ultimate dream is to intersect the realms of art and science by incorporating her work into her medical practice.
Tell us about yourself and how you discovered your passion for art?
"I grew up in a small town in Mechanicsburg, PA – following the path to becoming a physician, in which I am currently pursuing. My ultimate goal in life is to become a plastic surgeon. Along the way however, I acquired a love for drawing and painting. I first discovered my passion for art when I picked up my first pencil and began sketching in my reading books. There was something indescribable and relieving about picking up a pencil and transporting myself into a world where I was free to transform my imaginations. I played video games and was a huge SEGA fan, and further cultivated my love for pop art by drawing the characters from video games such as the popular series Sonic the Hedgehog and Pokemon. For Christmas when I was ten, my father bought me my first digital tablet and from there, I transitioned into the realm of digital art. While digital art is my forte, I also love working with traditional media as well."
If you had to categorize it, how would you define your style of drawing? You have clear signals of pop art and anime in your style but still manage to add your own signature flair. How do you accomplish that in your work?
"My style of drawing/painting is pop-art with a traditional foundation of Japanese anime and manga, however, I add my own flair by incorporating my own stylistic colors and effects into the pieces themselves. I try to use bright colors and hues that 'pop', introducing my audience into a dream-like soft world of technicolor and vibrancy."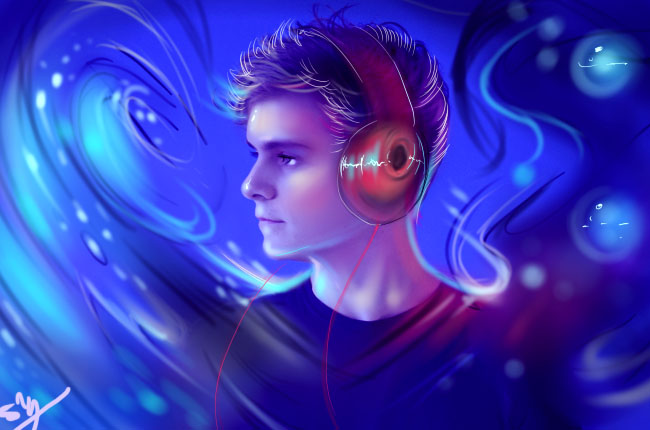 A lot of your artwork is clearly influenced by pop culture and celebrity icons. What moves you to begin a new pop culture-inspired piece and who/what are some of your biggest pop culture icons?
"Music contributes a large influence to my pieces. Often times I will draw the musicians or artists that really inspire me. Some of my favorite artists are the major EDM/ Electro music artists as well as rap and pop artists. The genre of music that I am listening to at the time greatly affects what I will paint, because as each song tells a story, as does my artwork. Takashi Murakami is one of my biggest inspirations in the art world as he goes above and beyond in producing vibrant works of pop art with Japanese anime and manga influence."
You recently had the exciting opportunity to work with Rage On! as a brand rep. How did the collaboration come about and what was the process behind designing your pieces? Can we expect more collaborations like this from you in the future?
"You never know what opportunities will come your way unless you try something adventurous. I decided to submit my work to RageOn! as they were accepting artists to work with. A couple months had passed and I had wondered about the status of my submission. All of a sudden I felt extremely blessed as I saw in my inbox an email regarding the company wanting to work with me. I was able to transform my major pieces into apparel and merchandise in which I currently sell on their website and feel incredibly blessed to work with their team. I am always releasing new products and am always thinking outside the box for new ideas and collaborative innovations."
You define yourself as a globe trotter. What's the last place you visited and do you get inspiration for your art work during your travels?
"The last place I visited was Los Angeles. I attended a red carpet charity event to support the fight against domestic violence held at the Vibiana. I was able to connect with the top producers, athletes, artists, and entrepreneurs around the world while supporting a fantastic cause. With every new experience of traveling, I am actively observing the people and culture, always acquiring some form of inspiration for my art."
What is your favorite piece of artwork that you've created to date and what is something you are looking forward to drawing next?
"My favorite piece of artwork to date would have to be my 8 feet x 10 feet digital painting titled "The Enigma". This piece was created with regards to my senior project in college. I wanted to illustrate a whimsical touch of humor and color that would make people smile, featuring a gigantic eggplant surrounded by animals and pop-art effects. I am a person who loves to "do the unthinkable" and plan to create a piece even more massive and colorful than this one."
Ultimately, what would you like to see come from your art? Do you plan to open your own Art Gallery one day?
"I want to be able to extend my art worldwide and work with top professionals in the world whether it be artistic, musical, business or any other profession. I want my art to speak messages to people and communicate. It would be nice to open a gallery myself, and an amazing opportunity to expand my art. Ultimately I see myself traveling the world and inspiring people with my passion in whatever way I can."
Tell us about some exciting projects that you're currently working on.
"Currently, I am collaborating with major projects and producers with regards to album art, icon/logo design, and commission work. Currently I am collaborating with B. Taylor, a representative of Motown (record company and style of music), to promote a positive image for the style of music and to honor the upbringing of Motown. I am attending a pop-culture art show in Miami called Art vs. Art to support my friend who is the organizer, and I have been also in contact with world-famous Dutch DJ and producer Afrojack with regards to artistic endeavors. Besides my collaboration with major producers and DJ's I continue to travel the world and attend pop culture conventions such as LA Comic Con, Florida Comic Con, and many other conventions."