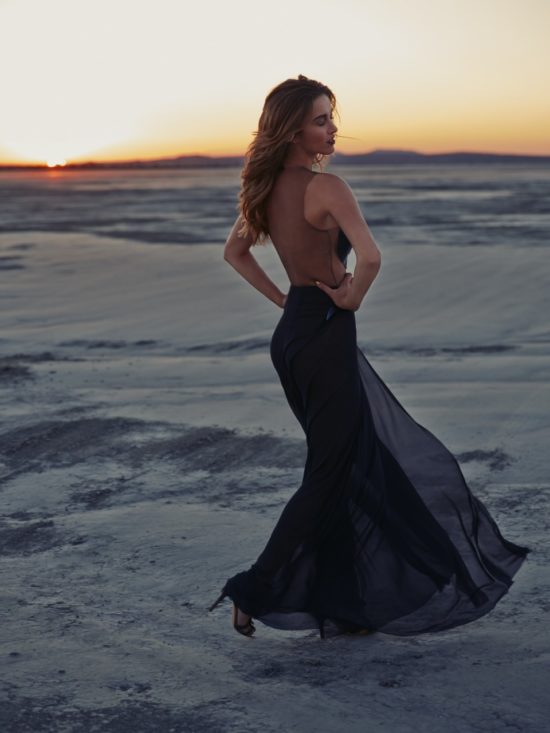 Actress, philanthropist, and stunning model Melissa Boloña is our new It Girl. Born in Connecticut and raised in New Jersey and Lima, Peru, Melissa not only does TV shows and film, she also gives back when she has the time. Melissa is an actress who has 7 upcoming film projects debuting this year. You may have seen her on the recent cover of BELLA LA Magazine as "Hollywood's New Breed of Actress" and Vanidades Magazine. In this past month, Melissa was also featured in Esquire Middle East for their "Woman We Love" segment. Keeping herself busy with modeling and acting, Melissa also participates in countless charities such as the J/P Haitian Relief Organization, founded by Sean Penn. A woman of many talents, Melissa is definitely our girl to keep up with!
Before the acting and the modeling, Melissa was introduced to charity work in high school. She would go door to door in her hometown, helping fundraise for the American Heart Association. "Growing up, my mom stressed the importance of giving back to those less fortunate and it has been something that has stuck with me. As I've gotten older, it has become something I choose to do instead of have to do. It's so important to find a cause that is close to your heart because there are so many people (and animals) in this world who need help," the actress-model explains. Melissa is known for her philanthropy and the New York Observer named her in it's 2015 list of Top 20 Philanthropists Under 40. Pretty impressive for a young woman like herself.
In 2015, Melissa starred in In Stereo and Shark Lake. Debuting in In Stereo, our actress-model played the support female lead, where she received countless good reviews for her emotional portrayal of an immature youthful New Yorker dating an older man played by Micah Hauptman. Later on that year, Melissa also landed a smaller role in a second movie called Shark Lake, which also starred Dolph Lungden.
Now this year, you will be seeing Melissa being featured in eight different films. Her roles range from light-hearted personalities to be more serious roles that challenge her emotionally such as Dog Eat Dog, which also stars Nicholas Cage and Willem Dafoe. "I'd say my most difficult role to date was in 'The Neighbor.'  My character in the movie is kidnapped and held hostage and it was a really dark place I had to go to in order to make it believable.  As for my easiest role, I don't think any of them were easy.  I think when you are committing to becoming a character you have to give it your all and if it's easy then you aren't giving it your all," she tells us. Seems like Melissa is still taking it day by day in her acting career but is doing an amazing job! When asking the actress-model who she looks up to when it comes to actresses and models like herself, she says,
"I think Jessica Alba is amazing.  She had a strong acting career and was able to leverage it into an even bigger brand; she never took the easy route and really made something for herself.  In this industry it's so important to create something that has staying power because you never know how long you have in front of the camera."
Not only is the actress-model starring in the film Dog Eat Dog this year, but will also be featured in 7 other films as well such as Category 5, Neighbors, I Am Wrath, and Firebrand. She plays a small role as a reporter in I Am Wrath, directed by Chuck Russell and stars John Travolta. Also branching out into the comedy genre of movies, Melissa will be playing a lead character in an ensemble cast that includes Kevin Farley, Beverly D'Angelo, Danny Trejo, Robert Knepper, Tommy Davidson and Hana Mae Lee in Frat Pack. Countless exciting events happening for Melissa this year, so we asked her what she enjoys doing on her days off.
"In my spare time I love to hang out with my family and friends and most importantly my puppies.  I like to take them to the dog park and on long walks when the weather permits.  I'm really into trying new restaurants, fitness and I consider myself an expert backgammon player."
Melissa has been quite active in the entertainment and modeling world, so we know it's all glam and work. But believe it or not, the actress does not actually like wearing makeup during her days off. "I don't like to wear makeup when I'm not working.  A bit of concealer and mascara and I'm out the door.  I think it's so important to let me skin breathe when I'm not working and I usually wipe off any makeup I have on the second I get home. " Aside from all the extravagant looks and makeup, Melissa's go-to outfit is actually quite simple and sexy. The actress-model says:
"My off-duty uniform usually consists of a bodysuit + denim skirt + some sort of flat sandal or sneaker.  I am all about dressing for comfort in pieces that are still cute and have a bit of sex appeal.  I like to shop online mostly on Net-A-Porter and ShopBop but I also love to pop into smaller boutiques to get inspiration."
With her career taking off so quickly, it can be overwhelming, so we asked Melissa what advice she would give herself if she could go back to the first film she starred in.
"The advice I would give myself is to be confident.  It's a hard business and everyone has an opinion and it's ok to have your own.  In the beginning was nervous to offend anyone so wouldn't always speak my mind but now I know that it's ok to say how I'm feeling or how I think something should go."
Keep your eyes out for this brilliant and stunning woman who doesn't just dream about success, she works for it.
Check her WEB,  FACEBOOK, TWITTER and INSTAGRAM.