The Purple One, our beloved Prince, passed away at the age of 57 early on April 21st. With a 4-decade music career, seven Grammy's, 30 Grammy nominations, and an Oscar for the original song "Purple Rain". Prince pioneered music with a mixture, of funk, rock, and a new-wave sound. Stretching the barriers of masculinity, race, sex, and rock n' roll.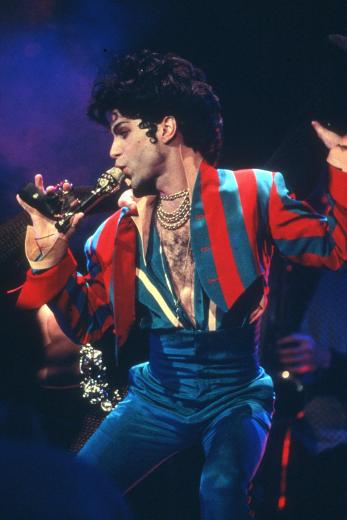 Prince brought a new conversation about gender into fashion. He made his image a crucial facet of his creative output. His iconic look of frilly shirts, lace gloves, and of course, his infamous purple suits, inspired us to be daring and to forget convention. His flair for fashion was seemingly boundless and unforgettable. Risque´ fringe pants, velvet tops, and even high heels- the pop icon definitely wasn't afraid to walk fine gender and sexuality lines. There wasn't a fashion risk the artist would not take.
Prince was as legendary as style icons will come; the androgynous singer rocked the stage in platform heels, and crafted various unforgettable ensembles. With a shyness that guarded him against the world, the artist was confident about his style, blending funk, and rock into something romantic. With his look constantly evolving, and pushing the boundaries of fashion, his audacious wardrobe will always be an inspiration in the fashion industry. And the legacy he leaves knows no limit to the influence on the runway.