Have you ever had a lighter you carry around but felt it did not really express who you are? I mean sometimes someone just wants to light a candle with a pretty lighter, am I right? Well look no further as we have now found these gorgeous lighters – each lighter is exclusive and fit for every personality, style, and occasion.
As you can tell, the lighters are handmade and put together one by one with closely selected charms. With each flame different, some simple and some with crazy 3D charms; they're all sure to make your heart thump.
I got to chat to the owner of Crackpacks, Brandye Wilson, and ask a few things…
Tell us about yourself…
"I'm a 24 year old trendsetter who lives in Los Angeles. I'm the owner and designer of my own brand Crackpacks. I sell and design smoking lighters, which can be used for absolutely any occasion."
How did you get the idea / concept of your product?
"I got the idea and concept right out the clear blue sky actually. It came about so suddenly. Adhesive pearls? A white lighter? Genius I thought! I just took it from there right away."
What inspired you to start creating these products?
"What inspired me to make the products was really just always making sure I take it to the next level when it comes to designing my products."
How did you come up with "Crackpacks"?
"I came up with Crackpacks by already having fell in love with the word "Crack". I  also wanted to create something addictive. The word "pack" was added on by always having my product wrapped in plastic, like a pack."
How do you advertise your business ?
Right now I advertise my business in New Profanity which is a store on Melrose in LA. I also sell on my Instagram, where you can find the direct link to my store and photos of my artistry.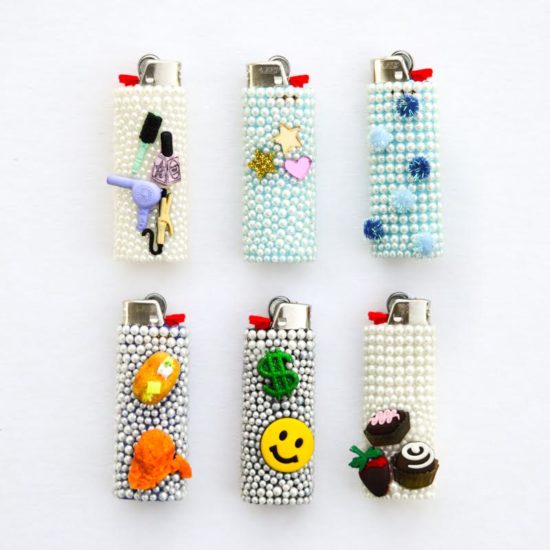 Is your product available to those outside US?
"Yes, my product is available to those outside of America. Easy Access for those all around the globes, just go straight to my site for purchase."
 Who are some people that inspire you?
"Jeremy Scott's art and designs inspires me as far as overstepping boundaries and getting crazy lol."
Make sure you check out these awesome lighters – the perfect gift for the holiday season!