From the moment I stepped into The Lash nightclub in downtown LA, I knew it was going to be a magical night and Joy Bullard did not disappoint with the launch of her PR Fashion Company, Style Barre.
Style Barre offers public relations, consulting, marketing and branding but there is nothing generic about her company. The night also consisted of a fashion installation and live music by Alice Tazer. I have actually known Bullard for years and love that our paths keep crossing. I happen to adore street style but this took it to another level. I admire that Bullard pushes those fashion boundaries and challenges her audience at the same time. She is strong, beautiful and makes it happen.
Bullard is also the creator of the blog Trending LA.  She does not limit herself. After years of producing for others and acquiring influential designers and brands, Bullard felt that she could not move forward with her strategic campaigns. She always had a vision in place but could not execute it due to ownership standards. This led to frustration but also prompted something even greater – the launch of Style Barre. Therefore the decision was made to start her own company. It has been a lot of work but she has the resources and talent and has not looked back. Bullard blogs, produces and hosts and when I asked her if she has a favorite, Bullard responded:
 "I get an adrenaline rush from producing events. It allows me the ability to use all my strengths."
I could not agree more.
Bullard is a great combination of business and creative and incorporates those strengths into her business. She knows that behind a successful company is a strong behind the scenes crew. Bullard's close friend, Tiffany LaVonne, was her lead stylist for the show and knew Tiffany would be capable of executing her Avant Garde vision. Michel Vincent Academy provided talented makeup artists and hair stylists. Details in this type of show go a long way. Therefore LaVonne and Bullard decided to accent the urban apparel with dark, dramatic makeup, bandannas, giant gold hoops and edgy hair.
The fashion installation's theme "Street Savage" featured fantastic and unconventional designers with a differentiation of styles but Bullard made it flow seamlessly. Her goal was to make all the designers fit into one concept. Bullard selected different designs to make a black and white monochromatic story with pops of red and gold accents, which made the High Fashion Street Style Avante Garde mood come to life.
Featured designers included Dunyah (a High End luxury Street Wear line that is culturally influenced). Dunyah was created by Mustafa Wafa and is a Washington DC based designer. All his material is 100% leather. His line mixes high-end fabrics with detailed designs. He know what to anticipate for the confident man who wants to fuse an urban and edgy ready-to-wear downtown  look. B. James "The American Designer"  made a strong impression with his unconventional textures; shapes mixed with Velcro detailing and pattern blends. I found his line very mod and contemporary.  Mister Triple X creates High end Street-Wear with an Edge … for the inner rock star in all of us. It's a fun and fabulous line. Known for haute swimsuits (men and women), he is making a mark. Last but not least, Odain Watson (aka "Odaingerous"), known for his luxury street style leather jackets made an impressive showing with his red jacket with gold studs and sported by the only male model of the night, Ahji, who wore it well.
I found all the designers to be very urban and filled with inspiration.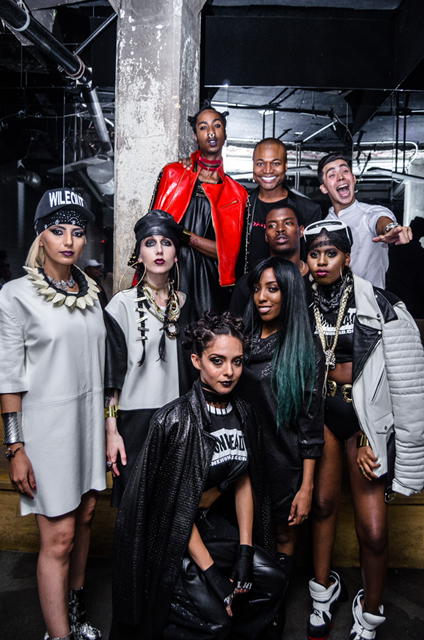 I was able to chat with Odain Watson in a tight corridor and Watson described his line as "edgy, sexy and very unapologetic." Odain oozes creativity and actually started making jackets for himself; people liked them and his design business took off from there. His motivation comes from people and their conversations. In a sense his designs tell a story which makes his creative process even more meaningful. Personally I would love to wear his leather trench coat… perfectly cropped of course.
What does Bullard see in the near future for Style Barre? Possibly a fusion of fashion and music as she has felt especially embraced by the music industry. Bullard elaborated:
"Everything Style Barre has planned is very next level."
I'm excited to see what is in store next for Style Barre and Joy's choice of creative designers. She has accomplished a lot but feels there is so much more for her to achieve. She said it best:
"God has a plan for me and I want to fulfill his purpose."
I am sure she will. Joy has a lovely gift of bringing people together.
Behind The Scenes
Founder, Producer, Creative: Joy Bullard
Styled by: Tiffany La Vonne
Team Style Barre: Iris and Arlen of Michel Vincent
Asst.: Anessa London