New York Fashion week will officially be in full swing starting Thursday, February 11th, 2016.  Unfortunately, most of us LA natives will not be able to attend, but that doesn't mean we will not be able to get the full scoop from someone else! And what better place is there to get every detail of fashion week than the marvelous Snapchat?
Here are a list of 7 Must-Follow Snapchatters to get every dirty detail of the Fall/Winter 2016 collections shown at NYFW: 
1. Kristina Bazan:  @Kristina_Bazan

This fabulous fashionista will tear up the town in gorgeous outfits, and attend the most iconic shows. She will no-doubt share every moment on her Snapchat.
2. Kylie Jenner: @KylizzleMyNizzl
Kylie—AKA THE SNAPCHAT QUEEN— has already posted a series of incredibly hilarious Snapchats over the past few days, while in NYC.  There is no doubt she will continue her fun antics over the upcoming days.
3. Rosie Huntington-Whiteley: @RosieHW
This model, actress, and fashion icon is always looking impeccable. She will doubt have an interesting perspective on her Snapchat for NYFW, whether that be as a model, or as an attendee.
4. Chriselle Lim: @ChriselleLim
Chriselle is always, always, always on Snapchat! Her outfits are nothing less than chic, sleek, and fabulous. And she is always invited to all of the best shows. PLUS, she has the cutest daughter ever that she totes around everywhere.
5. Kate Spade New York: @KateSpadeNY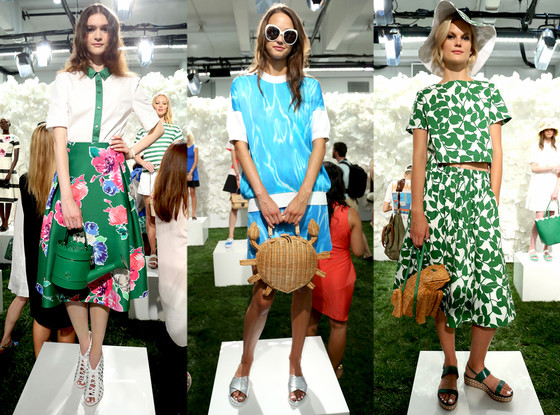 Sometimes a brand perspective on Fashion Week is intriguing and informative. So who better than to follow the quirky and gorgeous Kate Spade New York?
6. Aimee Song: @SongofStyle
Aimee is one of the most well known fashion bloggers, and she has such a classic, unique and feminine style. She will for sure get up to some cool things on Snapchat this NYFW, and will give a great audience perspective.
7. Gigi Hadid: @ItsGigiHadid
Do you want a model perspective on NYFW? If so, there is none better than one of the world's most famous and talked-about models, Gigi Hadid. She will give an exclusive sneak peak into the backstage life of NYFW.
Here are some additional Snapchat accounts to check out this NYFW:
Hailey Baldwin: @HaileyBIsBoring
Calvin Klein: @calvinklein
Chrissy Teigen: @ChrissyTeigen
Bella Hadid: @BabyBels777
Michael Kors: @michaelkors
Man Repeller: @man_repeller
Kendall Jenner: @KendallJenner
Rebecca Minkoff: @rebeccaminkoff