LAFM was at COSMOPROF NA this season and came across some MUST HAVE summer goodies that need to be in your cabinet ASAP….See below:
BE LIT AF* WITH 'PHOTO READY'
A great COSMOPROF NA find was STYLE THE RUNWAY, an exclusive hair styling brand. Our immediate fascination was with the lines striking packaging and beautiful illustrations. Its flair for design takes the art of styling hair to a new level. And while the line is made up of 11 interchangeable products, and we want them all – we can't help but drool over their PHOTO READY magic elixir! It's as simple as spray, swipe and click away. If you invest in any product this year it definitely has to be PHOTO READY by STYLE THE RUNWAY…and believe us when we say, "Your Selfie's will be Lit AF" – YUP! We took it there!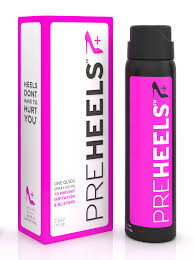 AVOID THE "WALK OF SHAME"
Ladies, we can all finally rejoice as we spray blister futures away! We mean it! just spray to create a clear durable anti-friction barrier and you can finally enjoy the pump without the pain. From your highest heels to your strappies and even sneakers, PRE-HEELS has got you covered.
Join us and order the Miracle Spray today!
GLOW BABY GLOW!
Let's face it, we all want that golden glow that we often see in Hollywood – I know we do! And why shouldn't you be able to get that PHOTOSHOP finish? Well, someone heard our call and that someone is MELANIE MILLS with her GLEAM BODY RADIENCE. This makeup cream is easy to apply and comes in an array of shines to fit your mood. Whether you are feeling a peach glow, or want to shine bright like a diamond – Melanie has got you covered.
A TAN THAT COULD FOOL THE SUN!
Ever wanted to get the perfect summer tan without that orange tinge? Well now you can thanks to MINETAN Coconut Foam. This coconut water based tan is truly a one of a kind bronzing treatment. Supercharged with antioxidants it helps restore skin hydration while revitalizing the skin. What's best is the formula absorbs quickly to lock in moisture as it also soothes dry areas to improve the overall skin texture and tone. Best of all? This all can be achieved in 1 hour!
TAN AWAY!!!
FILLERS WITHOUT THE DR VISIT
No, we are not saying that you should do surgery on yourself – instead we are telling you about a needle free skin plumper that is the answer to obtain the same results you get from your Dr! You read that right – you can finally get rid of wrinkles, unwanted expression lines, and plump lips with as little as a 14 days! We don't know about you, but we are excited!!! Buh-Bye Wrinkles! HELLOOOOO FILLERINA!