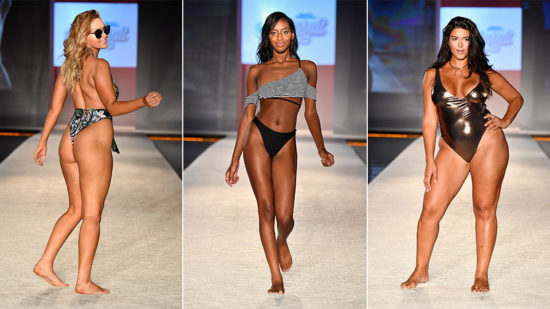 Some like it hot and others like it hotter! Bikinis, catwalks and to-die-for designs hit Miami this year for the annual Swim Week that takes Florida by storm every July, and this year was one for the books. Sports Illustrated Swimsuit launched its first runway and swimsuit collection this year using the models from their most recent 'model-search' that was the first open call for models to audition via social media the magazine has ever done. 15 baes in bikinis strutted the runway that was complete with mesh, metallic and some monokinis-check out the looks below!
Some of the other notable designers who premiered were Frankie's Bikinis, the collection from designer Francesca Aiello, a born and raised Malibu girl who's quest to find the perfect bikini developed into her creating her own swimsuit company-brought back the 60's in a big way. Bell-bottom jeans, psychadelic one-pieces and a throwback to Goldie Hawn's infamous 60's bikini & painted body made this show one of the most exciting of the week!
And then there was the Beach Bunny Runway Show…Who ever knew you needed fur and feathers to go along with your bikini? We didn't but after seeing this runway show, we're keen to try it! Beach Bunny, the brand created by Orange County based designer Angela Chittenden was initially made to create swimsuits for women to "feel sexy and confident…some people said I was crazy, that my designs were too risky…I guess they were wrong" They were wrong and she was right-fur and feathers, fluff and fun is absolutely on our radar as trends to watch on the beach!