ONCE A FOODIE – ALWAYS A FOODIE. It appears that even the life of the rich and famous can across ours around town when the tummy starts to grumble – and in some of your local favorites! Picture yourself, out on a Friday night with your friends getting sushi when suddenly, you turn to your right and see no other than GIGI HADID and her mom Yolanda on a girls night out….well, it happens – and we have some of your local favorites:
ZUMA – NYC
There are times you sit back to wonder what a super model diet looks like…then there are times when the super goddess herself walks in to your favorite restaurant and shows you she's no different that you and I. GIGI HADID and her mom, YOLANDA, were recently spotted by PEOPLE magazine as they enjoyed a girl's night out in midtown Manhattan. It appears that they shared several rolls and a steak from the grill.
MADEO – LA
What is there to expect from The Newest Hollywood POWER COUPLE? How about a quiet romantic dinner for two at a little Italian restaurant known as MADEO! Yes, this was back on March 25th, but we can't help but wonder how long before JENNIFER LOPEZ and ALEX RODRIGUEZ will have us looking for a name mash-up for the two…he does already go by J-ROD.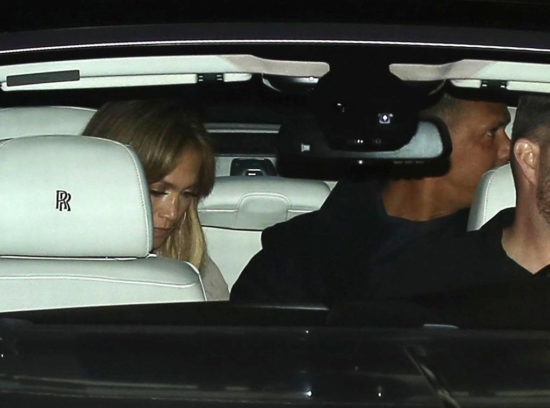 HERE'S LOOKING AT YOU – LA
We all love to get recommendations from friends, colleagues and fellow yelpers…but when your CO-STAR IKE BARUNHOLTZ tells you to try a place in Koreatown, YOU DO IT! And that is what MINDY KALING from The Mindy Project did one evening to what she exclaims was a "great dinner." Frog legs and beef tartare anyone?
STK – Atlanta
Now everyone knows an athlete can have quite the appetite…but how about a full team? NBA star LE BRON JAMES didn't waste time enjoying his stay in Atlanta when going up against the HAWKS. He and his teammates even sipped on some DON JULIO 1942 Tequila – must have been some dinner!
ROKU – WeHo
Table for two please….Touring around to promote yourself must be tough! That's probably why KEANU REAVES decided to keep the night low key with a friend ordering sake shots, tempura, shishito peppers, and some sushi and rolls to share. Sounds like my type of dinner – can I join?
LORING PLACE – NYC
I love social media – seriously! And when I hear someone like CHRISSY TEIGEN decides to share that her dinner with JOHN LEGEND was, and we quote, "SO GOOD!!!" while showing us her table filled with hummus and at-least 4 different desserts all I can say is, "who's hungry? And who's treating!?"
~Thanks TEIGEN!
CRAIG'S – WeHo
So it's West Hollywood, and yes, celebrity citings here are not a big deal…but what if it's potential rekindling of an old flame?! Oh how we love Gossip! So here's the scoop – KENDALL JENNER met up with ex-boyfriend, NBA player, CHANDLER PARSON's and bestie HAILEY BALDWIN at this Hollywood Hot Spot. Did Parson's ask the Bestie for support and back up? Stay tuned!
ROSA MEXICANO – NYC
Let's be honest, we all have our GO-TO spots when we travel, and I know it's crazy, but did you know that celebrities do as well!? MADNESS I KNOW! However, it appears that during FFANY Shoes on Sale Gala in NY our beloved blonde JESSICA SIMPSON made a stop at her go-to Mexican joint.
BEAUTY & ESSEX – LAS VEGAS
Vegas is more than just clubbing and pool parties….haa haa haa, ok, so maybe it's not really anything more than that but when it comes to knowing all the new hot spots to eat at LEA MICHELE and Fashion Police co-host BRAD GORESKI know to start at the Cosmopolitan Hotel. Just hope no "Bit*h's stole [their] look." And always remember to dress accordingly.
So next time you decide to go out with your friends to your favorite spot…we recommend you dress up a little because you never know when your celeb crush may just happen to be there. After-all, everyone has to eat sometime.