I had the pleasure of speaking with a professional basketball athlete recently, Lester Prosper, and given the amount of obstacles he has had to overcome in his life, it's amazing how he continues to rise to new levels of success and do just as his last name says: prosper! Throughout the time I was talking to him, I was amazed how throughout the telling of the painful and unfair circumstances he has had to deal with in his life, not once did I hear him complain. While most people would be bitter about having grown up under the circumstances he has had to, or at the very least, have something negative to say, nothing of the sort escapes his lips.
Instead, in talking to him you find yourself struck by his resilience and confidence undergirded by an amazing attitude and spiritual faith.
He explained to me that his mindset could best be described with the following statement:
"I may not be where I want to be, but I'm where I'm supposed to be".
Since no man can tell a story about someone's life better than the man who has lived it, I'm going to let the interview do most of the talking here. By the end of it, you'll likely find yourself just as inspired as I was, and you will be ready to take on whatever may come in-between you and your dreams. When we are faced with such obstacles, which you can be certain will produce themselves in some way because it is a part of our universal human experience, his advice is: "Be relentless and never settle", especially, in the midst of great adversity. Relentless does just about a perfect job of describing Lester, his work ethic, passion, and drive. That being said, let the story begin.
Afternoon Lester! Getting right to it, let's start with an easy one. Where are you from?
'Born in Dominica and raised on a small island in the Caribbean named Montserrat. The population was around 15,000 people. Now, I live in Miami."
What teams have you played for in the past, and who do you play for currently?
"Most recently, Mexico's Professional League, and currently I'm playing with the Hong Kong Professional League. I am heading back there in September."
When did you first come to America?
"I came to America at 12 years of age with my mom. She brought me to see my father, and she left me with him, so that I could get to know him, learn how to be a man, etc. She stayed for two weeks, and then she went back to the islands."
Why didn't she stay?
"She had to go back because she was married, had two daughters down there attending school, and also, it was better for her financially."
Understand. Was this in Miami?
"No. I was staying in the the "Slowbomb Projects" in Yonkers (New York) with my father's girlfriend. Very tough neighborhood. The kids were tough. There were a lot of gangs, and it was pretty rough. I played ball outside until 6 every day, and it was necessary to not be out longer than that because of shootings and what not."
Wow! This may be putting it lightly, but it must have been a big adjustment for you right?
"Yeah! I had to grow up quickly. I took the bus, avoided trouble, and just went to school."
Did you play for any sports teams or anything like that at the time?
"No. I just played outside in the park. I'm from the islands, so my first sport was cricket."
Oh wow! That's right. After all, you were in the islands until you were 12.
"Yes."
Ok. So you're in Yonkers. Living with your Dad. What was it like for you?
"It was amazing for the first few months, then things started to change. He drank a lot. After the first few months, I would see him drink, and his behavior became intimidating-to say the least. He hit me 3 or 4 more times. The abuse was getting worse, and his alcohol use was getting worse too. This was the last straw, and I decided to run away."
Where did you go?
"My friend Miguel's house. His mother called a shelter service for me, and they came and brought me to the shelter. It was located in Westchester."
What was it like living there?
"There were a lot of rules. For the most part, you had to keep one eye open, but mostly it was under control."
How did you adjust to your new environment?
"I followed the rules. Also, just being observant. That was very important."
How long were you in there?
"I was in there for about 6 months."
Unreal. Where did you go after this?
"I went to live with my aunt in Long Island. It was a great suburban neighborhood. Very relaxed and easygoing. I went to Dodd Junior High and Freeport High School, enrolled at Freeport, then transferred to Mepham High School."
Why did you go to Mepham?
"I was getting into trouble at school. From junior high to high school, there was a build up of the behavior, and then one day, my aunt decided she couldn't take it anymore."
What happened?
"She called the sheriff because she found a BB gun in my room, thought it was a real gun, and completely freaked out."
Where did you go from there?
"I was brought to a new shelter in Plainview. It wasn't so bad because of the independent and governmental programs they had there to help kids."
I'm curious about the programs you mentioned. Can you expand a little more on that?
"Yes. Definitely. One of them was The Hope For Youth Program. They helped kids get an education, develop as a whole, and get on a successful path in life."
At this point though, I'm also wondering when does basketball come into play?
"Basketball comes into play when I'm around 17 at the group home in Bellmore. Those kids could really play, and it helped me learn my game there. Then, I started playing in tournaments along Long Island, developing my game, and having fun with it."
Were you trying to get a scholarship to play basketball in college?
"No I was just playing basketball for the summer. After my last year of high school, I had planned on just going back to the Caribbean. That is when I was discovered."
So how did that all happen?
"I was playing my last game at the tournament, and I played really good. I showed out. After the game we had won, one of the coaches stopped me and asked me which school I was going to. They thought that I was going to a D1 school. I told them that I wasn't going to any school, and that I was just going to go back to the Caribbean after graduating from high school. They heard that, took down my contact information, and took the necessary steps to help me get into their school, and keep me in the country because I had immigration issues."
That's amazing. They just came up to you, and you had never played organized basketball or anything like that?
"Yes. I mean, I'm from the islands. We don't play basketball (Laughs)! I was 6'7 at this time by the way, and I was also very athletic with a great physique. Also fast. Very fast for my height."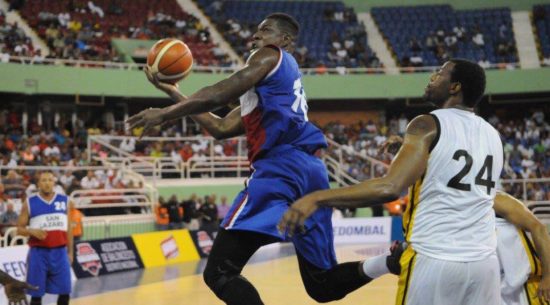 This must have been an incredible moment for you, and that's probably putting it lightly right?
"Yeah! It was a great moment for me. I was ecstatic and called my mother. I let her know I would be going to school here in the states and right away, I started to work my butt off."
So now you're in college. What was it like for you as you started out?
"I was a gym rat for the most part. My first year, I was mostly riding the bench-until the middle of the season when I got my big break. One of my teammates got into an altercation with his girlfriend in the dorm rooms. It led to him not being able to return to the team, and that opened an opportunity for me to take his place. During the first game, I played good. It gave me confidence going into my second game.
During this one, I played against a friend of mine who was considered one of the best centers in our conference. It ended up being a really special night. I had 18 points, 13 rebounds, and 15 blocks. This had not been done in years. It helped to launch my career and be seen as one of the the premier centers in Division 3 basketball at the time.
There was also a writer that happened to be there who was from Sports Illustrated, and I end up landing a spot in there (see March 3, 2008 Sports Illustrated issue for reference)."
At this point in the story, things were looking up for Lester, and he continues to excel, diligently training daily, but now he does so with a brand new dream birthed inside him: to one day play in the NBA. During his freshman year, he goes on to average 9 points per game (PPG), 9 rebounds per game (RPG), and 1.5 blocks per game (BPG); picture Chris Bosh's style of play, body type, and athleticism, and that is this guy. For someone who didn't even play high school basketball, it almost goes without saying that this first year performance is pretty impressive and a testament to the work he put in at the time. After all, it is quite a large leap to go from just playing for fun to playing with athletes, who for the most part, had been playing basketball for their entire lives, trying to get a college scholarship for all intents and purposes. Even though he was gifted with natural ability, he trained daily to improve his game with a consistency that hasn't stopped to this day.
As a result, he became a better athlete as time progressed, and his skill level continues to rise to new heights. In his sophomore year, his stats improved to averages of 13 PPG, 11 RPG, and 1.5 BPG. And during his junior year, the growth continued as he averaged 15 PPG, 11 RPG, and 1.5 BPG in his junior year. His best year would be his final as a senior, where he averaged 19 PPG, 13.5 RPG, and 3 BPG.
Fast forwarding to the end of your senior year in college, what happens next in your basketball career?
"Near the end of my senior year, I continued to train intensely, and agents were reaching out and getting in contact with me. There was one agent who came to the school, sat down with me, and we had a great conversation. I ended up signing with this him. His name was Andre Buck."
Where did you end up playing next?
"So I end up going to Sweden to play, but I was cut in training camp. I was there for about 3 months. From Sweden, I played in Slovakia, finished up the rest of the year there, and then I went back home. I continued to train, and then, in the middle of the season in Slovakia, I decided to part ways with my agent."
Why did you do that?
"People were in my ear. I was young, immature, and naive. I was also impatient, getting panicky, and getting advice from people who didn't really know about basketball placement in Europe. I fell for the promises of some agents that were selling smoke and mirrors."
Where did you go from there?
"I went back home, continued to work more on my game, and then I signed to a new agent in New York who got me a job in Canada. Things were looking up. I played hard in Canada, but I was released from the team at the end of the season. After Canada, I left to play tournaments in the Dominican Republic in order to keep myself afloat financially. After that, I thought I had a big break for a Russian Team. I go to Russia, but the contract with the team fell through. They promised money that they didn't have."
That must have been really hard.
"Yes. It was really hard because at this point in time, I'm living with my lady. My lady and I live together. We have bills. She had been supporting me through everything, and for this six figure contract to be on the table…we thought that it was a big opportunity for me. It hit me hard in Russia."
How did you deal with the discouragement? Did you ever feel like giving up?
"Situations in life either make you give up, force you to give up, or you just plain out give up. I'm not a quitter, and I decided to keep going no matter the odds against me. So after Russia, I had a few more failed stints, but the burden really came down on me after Russia. After those two failures, I was very discouraged and was thinking about stopping basketball entirely, but I decided to keep going, keep training, and keep getting better."
Where did that drive come from?
"I just pushed through. I didn't want to be in an office doing 9 to 5. I'm also afraid of failure, by the way."
Understand. Then what did you do?
"I went back into the gym. Kept training hard with my trainer, Coach King. I was working out in LA Fitness one day, and one of the guys brings me to meet someone who would end up being my current mentor/business manager, Terence Young."
Does this end up helping you find a new team?
"Yeah. The guy from the gym introduced me to Terence, and he found me a spot on a team in Guadalupe after some agents had reached out from the Caribbean. So then, I'm playing in the Caribbean now. I'm averaging around 23 PPG and 13 RPG while I'm in the Caribbean. Then out of the blue one day, the coach, who was the owner of the team, said that he wanted to have a meeting with me. He tells me that I wasn't good enough to be getting paid the amount of money they paid me ($1500 a month). He cuts my pay, and I go from making $1500 a month to $800 a month. After that, I didn't have anything else on the table, so I had to accept it. But in my mind, I'm telling myself, I'm grateful for everything. I had a roof over my head, I'm by the beach, and I'm just being thankful to God and continuously praying for a better situation."
Amazing attitude! It would have been so easy to get down after that. What happens after this?
"One day I end up getting a text from an agent in Asia. He says, "I need you for this tournament. We are paying this amount of money for 24 days." Now check this out. The amount of money that he offered me was more than what I was making in a whole year in the Caribbean! So for those who don't know, let me tell you: prayer works!"
That is incredible.
"After this, I left Guadalupe, got on a plane 4 days later, and was soon greeting my new teammates in Hong Kong. This is the team I am with now. It has been an uplifting time in my life because I'm better off financially, became a better person spiritually, and this gives me breathing room to continue to pursue my dream of playing at a higher level in the NBA."
Your story has been really inspiring to me, and thank you so much for sharing. As I have listened to everything you have had to overcome, and how you continued to push forward despite the setbacks and disappointment, I was wondering if you have any final words of advice or key takeaways for our readers?
"No matter what obstacles you go through in life. Always keep pushing. Always keep training and stay ready. If you stay ready you don't have to be ready. So when opportunities present themselves, the situation will take care of itself because of your preparation."
Connect with Lester through INSTAGRAM