LIFE IS A PEACH– Why not use PEACHBODY; Flavored Probiotic Vaginal Vitamin Suppositories?
As we welcome the New Year, we begin to hear the phrase, "NEW YEAR, NEW YOU" – however the truth is, a healthy you can only emerge from within. This time, we are not referring to stress or moods, but want to specifically target, well…down there.
Let's face it, as we walk up and down the aisles of our local drugstores and check what's new online –  it is hard to miss the exploding amount of feminine-health related products crowding the shelves. They are specifically engineered to balance your PH levels, provide "good" bacteria for your body and keep you fresh; hence their increasing popularity. But what exactly are they? And should you be using them?
Our answer is YES! YES YES YES – Some items are traditional oral pills, while others, like Peachbody, are inserted and dissolve in your vaginal tract; but the premise is the same: to keep you infection free…and a healthy feminine flora means a more pleasant odor and, less irritation and discharge, which leads to a healthier and therefore happier you!
Where to start? Peachlife to the rescue. After much research and personal trial, we have decided that LIFE IS A PEACH – this is why we love and recommend PEACHBODY, by PEACHLIFE INC, a women-owned company. They offer one of a kind peach flavored and scented probiotic vaginal vitamin suppositories to help you stay fresh and balanced! They are made with natural and vegan ingredients, and the chic and clean packaging is a plus; it makes it easy to discreetly throw them in your medicine cabinet with confidence. This little magic capsule is life-changing.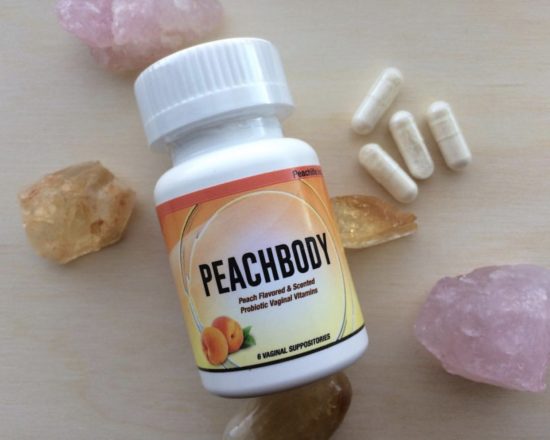 Aside from the positive results, we are a fan of the subtle taste and smell of peaches for those intimate moments. Most importantly, they create a healthy vaginal flora and PH balance through 11 probiotic strains, vitamins, antioxidants, enzymes and amino acids. This all aids in the prevention of yeast infections, bacterial vaginosis, candida and UTI's in a good, healthy way. By containing live probiotics, you only need to deposit 1 suppository every 4 to 5 days, making 1 bottle enough for a full months supply.
PEACHBODY is available on their webpage www.peachlifeinc.com or on Amazon through a simple search for the product name (insider tip: add 2 items to your cart to receive 15% off and free shipping). Click here.
This year, we encourage you to take charge of and learn about your Feminine Health – and we hope we've given you a great way to start.
Get yours today! They are available on AMAZON
and FOLLOW THEM at PEACHLIFEINC