Women wear sunglasses for different purposes. While some use them to protect their eyes from the harsh rays of the sun others wear just for fun or in order to stand out in the crowd with their super stylish look. Whatever your purpose of wearing sunglasses here are the top 5 ladies sunglasses for summer 2017. These fabulous eyewear trends will surely make your look more fashionable and elegant. If you like to use a variety of sunglasses then it's ten high time to refresh your summer accessories and consider some new options.
Marble frames sunglasses
The first trendy sunglasses are the ones with cool marble frames. They are delightful and interesting in their design and shapes. You can find many famous brands offering such eye-catching and fashionable sunglasses for summer 2017. Michael Kors, Karen Walker, and Christian Siriano are the main brands that come up with these stylish glasses. They offer different shades, styles, and designs to match with various outfits and accessories.
Double wire rim sunglasses
Double wire rim sunglasses are considered as one of the hottest sunglasses that offer rounded frames and have retro touches in them. They can provide us with original and unique looks that draw attention to our eyes. When the used rims are thin they look even daintier and fancier. The main advantage of those frames is that they add extra support to sunglasses. Double rims appear in a wide variety of colors and styles and are often seen at several fancy fashion shows such as Prada, Trussardi, Dior sunglasses and Giorgio Armani.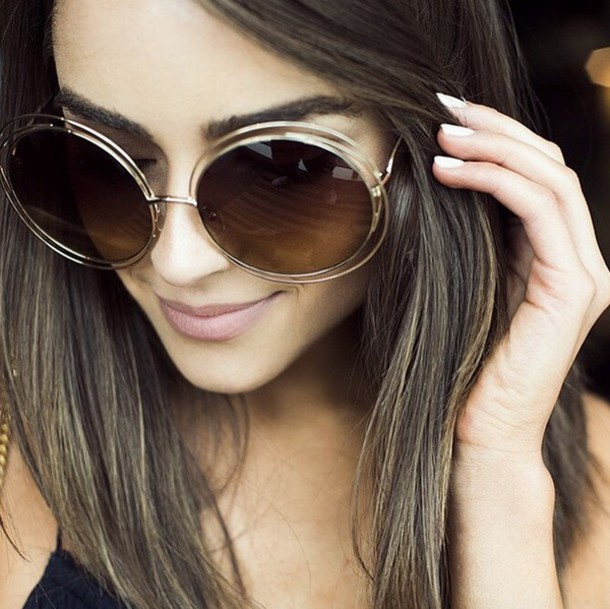 Clothing Matching Sunglasses
If designers offer to mix trims, designs, and styles of outfits they recommend keeping up with matching sunglasses in order to create super stylish looks. You can increase your elegance with the help of a stunning piece of sunglasses that go well with your outfits. There are special styles of sunglasses to match with shoes too. So, posh fashion houses like Fendi, Max Mara, and Opening Ceremony offer a wide range of sunglasses to match with different outfits. The shades of the frames play a great role in this case.
Aviator sunglasses
Welcome the unique and interesting aviator sunglasses with their dainty and sophisticated frames. They are classy and cozy sunglasses for different occasions. Today we see newer changes and more impressive effects for these sunglasses. They are ideal both for men and women. If you are looking for classy and catchy glasses for this summer then pick aviator sunglasses from Chanel, Opening Ceremony, Kenzo, Roberto Cavalli, Carven and more.
Clear lenses
Clear lenses can look as stylish as colorful and glamorous ones because they are one of the best trends for this summer. It is not always necessary for the sunglasses to have dark or colorful lenses. They can look posh and attractive with clear lenses too. Gucci, Anna Sui, Chanel, Hellessy and Custo Barcelona offer a variety of clear lenses for different occasions. Thus, if you prefer clear lenses instead of dark or colorful versions you may rock new styles in 2017.