For the first time Mexico City is no longer looking outside its borders to source their talent.
When growing up in a city, it's common to set up our blinders and accept that an "import" would promote an idealistic of "better." – But that has changed this year as Mexico City demonstrates that they have not lost their competitive edge and that their pride alone is their source to feed the cities drive.
It all began with a vision. A group of creative directors agreed one day to take cues from the culture itself. This time – 10 years ago, the City of Mexico (once referred to as the Federal District of Mexico, 'DF') launched their very own fashion week, it was small – but that didn't stop them. This year, that same group of creative made it clear that they were not trying to be like NY, PARIS, MILAN or any of its counterparts. Realizing that being different was an advantage they began to celebrate fashion-week fueled with several movements that would begin promising greater protectionism and promoting local talent as a symbol of support to the city and those that reside in it. They focused on the heart.
But success comes from those that obtain support for their initiative. Fashion Week Mexico City was no different and this year it all became possible thanks to their 2 anchor partners: Mercedes-Benz and the Sheraton Maria Isabel. Using a globally recognized fashion name allowing themselves to officially use the title MERCEDES-BENZ FASHION WEEK MEXICO CITY, alongside of the most iconic hotel due to it's location, architectural style, and momentous events in history, it allowed this year to highlight and continue strong with #TIEDTOGETHER #MADEINMEXICO and most importantly #VISITMEXICO as their focus.
Understanding the important on both local and international press, the Sheraton Maria Isabel took it as their main responsibility to invite prestigious international media such as Conde Nast, The LA Fashion, Nylon, WWD, as well as key local media outlets such as FORBES, ARTISENAL Magazine and several others. The goal was to re-introduce MEXICO CITY, one that though not forgotten had been too often overlooked. The result ended in showing us that MEXICO CITY had never been lost and for those lucky enough to stop and view it – it indeed was more beautiful than ever. The runways this season took place in various landmarks that allowed each designer to embrace the history of Mexico. It permitted spectators to experience a true connection with the city, design, gastronomy and history, allowing them to live in the pride.
The first part of the movement happened on Sunday, when the Fashion Platform decided to open at the iconic 'El Angel' monument located directly in-front of the Sheraton Maria Isabel. This brought forth a stance. In the middle of downtown Mexico City, where the statue created by Antonio Rivas Mercado is showcased, would once more showcase a monument that after this day would represent yet another victory in time.
The platform evolvement is one that is worth noting. A small project that spawned from 8 designers who showcased in 2 days a few years back proudly stood tall this season presenting a total of 30 presentations in 8 notable landmarks within a span of 6 days: Monumento a la Revolución, Monumento a la Independencia, Nave Norwich, Ex Convento de San Hipólito, Carpa Astros, Editorial House, Sheraton Mexico City Maria Isabel Hotel and Foro Masaryk.
We know this just the beginning as creative directors are already in talks on how to be able to share the pride of Mexico City with the world; we just can't help but ask to be part of the journey.
ABOUT THE DESIGNER SHOWCASE
KRIS GOYRI
This season we were transported to a beautiful 70's inspired Spanish Garden that fluttered around the El Angel statue at the rundabout on Paseo de la Reforma across the Sheraton Maria Isabel hotel. Being inspired by Tlacotalpan, a town located in the state of Veracruz that is full of color and life as seen throughout the collection. The name itself translates to "broken earth" with winds that sing from the flutter of butterflies. Guests, all sitting several rows deep, were presented with glamazonian women who stepped down a staircase in rich hues of silk as they shared an ode to the architectural fusion between Latin and the typical; all while projecting their ode to the strength of contemporary Mexican Women. From petal cutouts in hues of yellow to red, until reaching ranges of blue and garment detailing of exposed shoulders and bare legs transforming each garment into the flowers that decorate the street. In addition to the collection were artisanal metal accessories in collaboration with Sophie Simone Designs, an additional treat to the show. Closing, models lined up to spearhead the movement for #tiedtogether in Mexico as they waived scarves in the air marking another moment in history at the city's monument.
CIHUAH
Taken on a symbolic journey, the French-Mexican designer presented her collection GENESIS in accompaniment of world-celebrated pianist, Michael Neiman. Showing a contrast of Black and Whites, with the small introduction of details in gold and silver, the almost minimalist collection demonstrated an inner rediscovery of the signature. Opening with a 2 piece garment in a "nun" form symbolism helped to own in what the designer finds to be an inherit state of life; the uncertainty and the doubts in "I." Each piece was structured, with asymmetrical cuts, and layers. Special detailing was on a metallic feathered brow over a clean face and slick back hair.
PINEDA COVALIN
Once more the designer showed the fusion between functionality and minimalistic design, all with a splash of color. Continuing to focus on silk as a main material, this season we were introduced to sheep skin, gauze and heavier materials like velvet in rich purple navy and black. A notable print was that of cobs, an ancestral grain that is key in Latin America.
ZIUTIKA
Seeing a merge from Present to Past with milestone models from the 90's was the perfect way to present a timeless collection. Though the designer created a line of functional garments that would appeal to a more mature woman they spiced it up with fingerless leather gloves, to over-shirt leather corsets. The collection took basic pieces we've grown familiar to and reinvented them with pleated sleeve detailing and thick fringed knee length skirts.
ESTEBAN CORTAZAR
Making sculptural silhouettes a brand-statement, with Esteban Cortazar the rules of mix and match are re-written to another level. Throughout his collection there was a maximalist fuse where uneven cuts and a combination of neutral hues next to high contrast prints became the norm followed by plaids and flower prints that went from shades of red to green and navy blue. It's more than the risk presented, as you take into notice the quality in the garments structured lines that become the wearer. Our favorite?An oversized Bathrobe styled coat made of a collage of photographs that Cortazar told the LA Fashion Magazine "were taken directly from his social media to show the impact in change."
ALFREDO MARTINEZ
Mystery, seduction, and dark – this was Femme Fatale. Designer Alfredo Martinez presented a collection through exaggerated silhouettes that featured intense prints in both dark and feminine tones. From a sensual presentation in soft pinks through dark mystery in dark velvet each garment showed the perfect balance; down to the dark lip with a metallic strip and even the footwear matching the print, no detail was overlooked.
XICO
A sporty collection that presented clean lines in pink, grey and white garments meshed with detailing in textures and sequins. XICO is always able to transport you to FUN through imagination and fantasy. This season, the designer reinvented it-self by creating a mystical character that rescues Mexican tradition. The colors were that of a party, not being afraid to be bold on prints. The makeup, smudged over the top white shadow with hair teased back flat with large ends.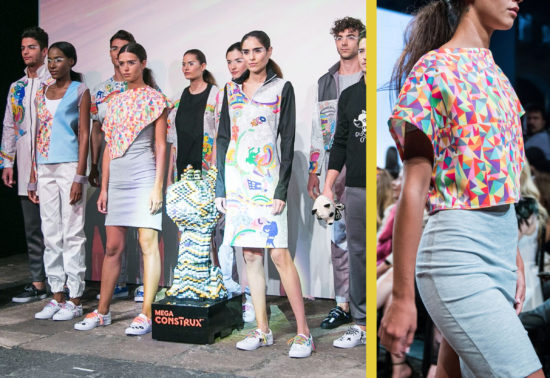 LYDIA LAVIN
An ode to the NOMADS. Showcasing a bohemian essence the designer chose delicate silhouettes with detailing of fringes and thick fabrics in asymmetrical cuts. As a tribute to all who have left their land to start a new chapter, Lavin focused on layering cotton with wool and cashmere. The main thing to note is the selection of color inspired by urban area in Mexico; mixing some of the old with the new.
VERO DIAZ
Inspired by Asian style, the collection called SECRETS brought a modern woman in delicate materials with details in pleats and embroidery. The collection played on shapes; garments showed movement both through oversized silhouettes to fringe and pleats. Every so often you'd see the face of a panther or the needle work of a crochet panda.
BENITO SANTOS
Inspired by Elvis, Benito Santos once more brought us a concert in runway. RED, WHITE, and BLUE electrified each piece inspired by western detailing in modern silhouettes. This collection is truly for the woman not afraid to draw attention and ensure the KING returns. With Benito, we can all agree that fashion can be rebellious and glamorous all at once…and for this designer LESS is NOT more, and we are glad! Bring on the DRAMA!
UNIVERSIDAD JEANETTE KLEIN
Let the "NIGHT OWLS" loose. The collection was dark, almost gothic as black was predominantly the main color. Opening with two girls in printed garments side by side and followed by a grey tulle skirt and a sweater that read "I PUT A SPELL ON YOU" – we were hypnotized. From this point on everything turned dark with oversized garments and maxi 2 pieces with movement. The collection itself was created by 13 designers; but through the looks you could not see where one vision started and the other ended as it all translated nicely into a well put together mix.
LUCIANA BALDERAMA
Such glamour and poise at the Balderama show, but with a hint of seduction. The feminine line took modern sleek silhouettes and raised the bar by embellishing them with intricate beaded detailing. Taking formal pieces and blending them with oversized dusters and metallic skirts allowed the stigma of beaded dresses to evolve into a new welcome to daywear. The collection was young, chic, sexy and most importantly, wearable.
CYNTHIA BUTTENKLEPPER
It's all in the details. Taking rich hues of Blue. Gold and Black, Cynthia's victory dance goes to the detailing in her garments. Showcasing oversized frocks with skinny belts, detailed backs and layered slits made this collection a must see, and one to count in your closet this year. The collection though simple at first glance has key detailed that took the ordinary to the next level and left us asking for more. It even had a formal bridal option for the minimalist of brides looking to wear the perfect dress with clean lines on their special day.
LORENA SARAVIA
This was a collection that had it all: From the standard flight uniform that offered cape-lets to die for, or the chic street style with mixed media, down to the formal white dresses guaranteed to have any head turning your way. The lines were classic with leather and fringe detailing mixed in with silk. Everything had poise and brought a new meaning to elegance…we were in love already, then an oversized feathered top took the stage that made us realize this was not just a collection to keep an eye on…it was THE COLLECTION this season. Our recommendation? Begin to place orders today before it's too late.
#SHERATONMEXICOCITY #MBFWMX #FASHIONWEEKMX #TIEDTOGETHER #VISITMEXICO #MADEINMEXICO #CAPITALDELAMODA