Everyone loves to look good. This often means you have to spend quite a bit on buying things to look good. Getting good value for your money is not exactly easy when it comes to fashion if you aren't looking to break the bank. Thankfully, there are a few watches that you can get that wouldn't overstretch your budget. In this article, we will be going over a few quality wristwatches you can get that wouldn't make you overspend. Let's dive straight in!
Luminox Navy Seal Colormark Chrono 3080
This is one outstanding fashion piece from an equally great brand that won't break your bank. It has a cool and sophisticated military look that would give you the presence that you would like. It has a chronograph system that can work under water. Also, it has luminous effects that you can use to tell the time even in the dark. It makes use of its trademark night vision tubes which contain a borosilicate glass capsule that adds to the luminous presence of the watch. This watch costs just over $500, so you can be sure of getting top quality at a very affordable price.
Citizen Blue Angels World Chronograph
This particular watch is one that has a lot of information and detail to it. Even though it can be a bit tough to decipher, it becomes the ultimate piece once you have gotten the full hang of it. The chronograph system is easy to understand. If you are the type of person that is into features, then you would be impressed with its Atomic Timekeeping technology that comes with a synched time adjustment system. It is also very durable and is made from the finest stainless steel. At just $650, you can own this quality timepiece.
88 Rue Du Rhone 8 Origin
This is one watch that can't be missing when we are talking about designer watches that you can buy without breaking the bank. This watch is produced by a sister brand of Raymond Weil. This watch comes with solid black chronograph system and black stainless steel with red details. It is the best watch for you if you are looking to make a big fashion statement. It also flirts positively with the Chinese market because the number 8 is considered a lucky number there. This timepiece can be gotten with $580 and saves you a fortune on having to buy other more expensive brands.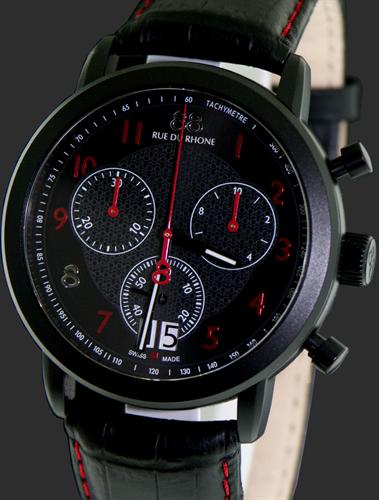 Enjoy the quality time. Anytime.