Lovely Julia from Switzerland is the owner of JouJou Little World, a brand that represents these adorable dolls (all hand-made and children friendly). LA Fashion Magazine was fortunate enough to schedule an interview with her and chat about the whole story and all inspirational factors that helped Julia through this beautiful process.
When did you start creating dolls and what was your initial inspiration to do so?
"Desire to create and make handcrafted stuff was with me as long as I can remember. When I was a little girl I had two dolls with beautiful dresses and I dreamed to have many different outfits for them and play with their look. My mom was always very supportive so we started making clothes for my precious dolls together; she was knitting, I was sewing on a little sewing machine – under her supervision of course (laughs) and from that time on I wanted to do nothing but to associate my life with art. I went to an art school to learn more. Few years later I met my future husband and we got a lovely couple of fabric dolls as a wedding present that I could not stop looking at and since then passion of making dolls continue to grow… and the rest is history."
Tell us about the most popular doll?
"My Joujou World looks like a zoo (laugh). I've created foxes, penguins, elephants, birds, wolves and cows, but amongst them all I think the fox doll has a special place in my heart. It's one of my favorite animals, I just love everything about them: the color of their fur, they sneaky eyes and behavior, they are so much fun to watch. Lately I've designed a new doll with fabulous curly hair and a joyful face in different outfits, so I can try fashion trends of all seasons on them. I'm in love with them but certain clients keep requesting foxes. Joujou Little World means fancy foxes for majority and that means a world to me."
"Few years ago I discovered that doll making is something that you can't study at school or elsewhere. People get their own experience through every new doll they improve and try new tricks every single time. It's your own experience and your ideas portrayed in a doll. It gives me a chance to show my inner word and feelings, it gives me a way to be creative. It's an art."
"Fashion is what you're offered four times a year by designers. And style is what you choose." —Lauren Hutton
What does fashion mean to you?
"I've always loved fashion ever since I was little girl. My mother was a sewer and she would create clothes for me and my dolls, too. She would make it with crochet collars and also loved decorating t-shirts with beads, I was my mommy's doll (laugh). For some people fashion means reading magazines and follow trends, they may know the colors of the season, type of shoes and dresses that would become trendy, but that's pretty much where it ends. For others it's their entire life. These people spend days, weeks, months to create a new
style. You can see ideas and inspiration throughout collections that designers create. I love the words of Gianni Versace:
'Don't be into trends. Don't make fashion own you, but you decide what you are, what you want to express by the way you dress and the way to live,'
— these words describes perfectly what fashion means to me. I combine incongruous, I pay a great attention to accessories and I always prefer quality to quantity. Fashion is a great helper to keep our identity and uniqueness, by choosing clothes we say who we are."
Tell us about your life and what inspires you?
"Living in such a wonderful and beautiful country (Switzerland) is already the biggest inspiration. Some key ideas pop up in my head and then my imagination and my hands make the rest and I absolutely trust the process. I make sketches before starting to work on a doll but every single time things turn differently and even more beautiful than I expected. I've read somewhere "If you have good thoughts they will shine out of your face like sunbeams and you will always look lovely," and I think this is the secret. I start with admiring a beautiful sunrise every morning, with a cup of hot tea in my hands looking through the window on the beautiful mountains and I usually create dolls only when in a good mood and with a smile on my face." 
How would you define "art"?
"That's a great question… It popped up in my head so many times, but I could never put my words into a clear and beautiful answer, I will try to do so now. Art is such a great part of our everyday life, whatever we look at is art…music, literature, paintings, architecture, clothes and so on. For some people it's the main reason to get out of bed in the mornings. Someone creates new melodies, someone puts it into lyrics, someone else use their hands and a brush or like me takes a needle, piece of fabric and a floss. It's amazing how one piece of fabric can turn into a beautiful doll or into an amazing dress. I studied art at school as something untouchable: we went through history, biographies of famous people, techniques and I tried to find my own way, my own style and place in this big world called art. Nowadays to be an artist means to have your unique vision of some stuff and be able to express it by means of everything."
"I think some people might not agree with my definition and they are right as it is still an open topic to discuss : art is never in a permanent stand, it is always changing and goes toe-to-toe with time; it is subjective and debatable as every masterpiece means different to every single person on earth."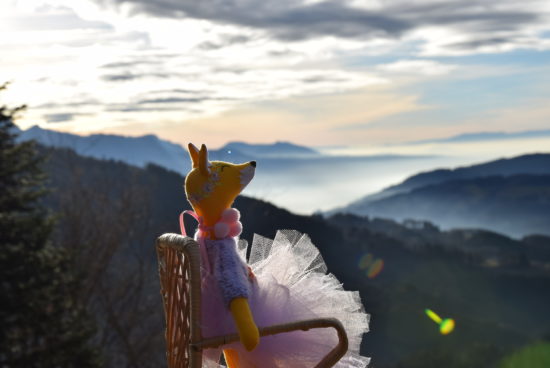 "I love what I do and put all my heart into it, care about every stitch I make and believe my love will spread around the world and make somebody smile or maybe even cry, but only if it's tears of happiness. I am so thankful for my beloved husband who always understands and supports me. Throughout my entire life I always feel love of my friends, family and people who love what I do. They inspire me and provide the encouragement I need to create more and never give up."
Follow JouJou Little World on INSTAGRAM
& don't forget to check their beautiful WEBSITE