On Feb 22., 2017, young designers from Hawthorne High School presented the newest fashion trend, When Geometry Meets Fashion, at the Fourth Annual United Way of Greater Los Angeles Linked Learning Showcase.
The event was held at Maker City LA in downtown. It's a space where young entrepreneurs and budding designers are making dreams come true and these fierce teenagers were no exception! Their Linked Learning project was an opportunity to create sustainable fashion using geometry, math and design skills learned in the classroom.
Crystal Sanchez and Keren Arenas talked about the work process for themselves and other students – learning how to cut fabric and patterns, and using sustainable resources to create a one-of-a-kind design. The girls came to show that despite being minority women from low-income families, they are on a mission to pursue successful careers and overcome any societal obstacles.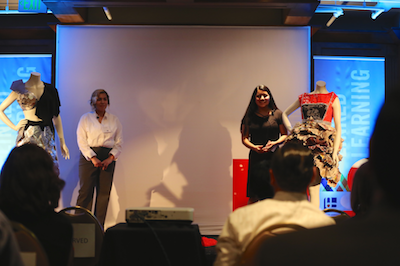 "Education plays a crucial role in breaking the cycle of poverty," said UWGLA Vice President of Development Mario Marin. "Linked Learning gives students the technical training and teacher support they need to build a foundation for success after graduation."
"This year's event was our best to date! The students from Pasadena High School showed an impressive level of knowledge, professionalism and showmanship," said UWGLA's Director of Education Programs and Policy Elmer Roldan.