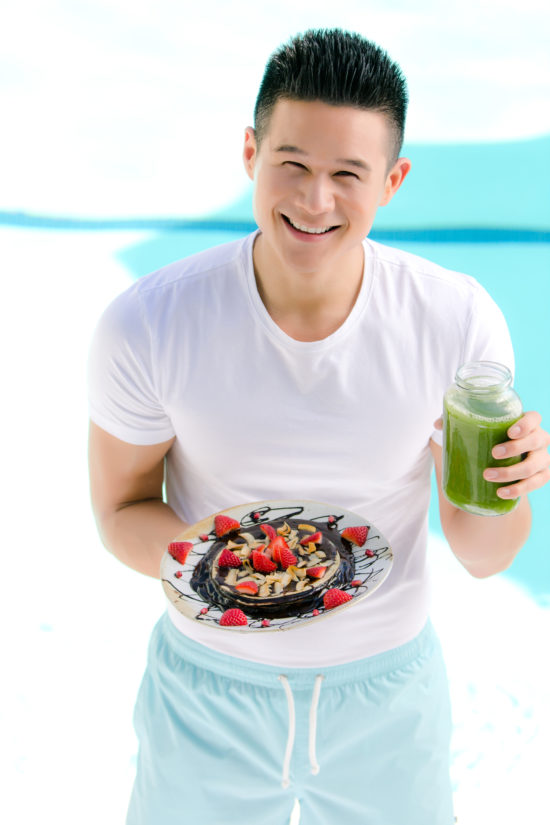 Breakfast: Chocolate Strawberry Crepes (GF)
Ingredients:
1 3/4 cups gluten free flour
½ cup almond four
1/2 cup unsweetened cocoa powder
1/4 teaspoon kosher salt
6 tablespoons coconut sugar
3 eggs at room temperature, beaten
2 tablespoons melted coconut oil
1 teaspoon pure vanilla extract
2 cups almond milk
For Serving Presentation:
Fresh Coconut Cream
Chocolate Sauce
Melt To Whom It May Chocolates or Your Choice of Chocolate in double boiler.
Directions:
In a large bowl, place dried ingredients plus coconut oil, vanilla and mix well…add in eggs and whisk
Use non stick pan, put some coconut oil, put fist size amount of mixture onto pan until golden crisp, quickly flip over for 2 min. Plate crepes with coconut yogurt, chocolate sauce then decorate with your favorite fruits. We use coconut flakes, strawberries, mint would be great too!

Lunch: Avocado Pomegranate Salad (GF)
Ingredients:
1 cup organic spring greens
1 ripe pear (optional)
1 avocado, peeled, pitted and diced
2/3 cup almonds
2/3 cup crumbled goat cheese
1/2 cup diced red onion (about half of a small red onion)
seeds from 1 pomegranate
½ Roma Tomato
CITRUS VINAIGRETTE INGREDIENTS:
1/3 cup orange juice
1/4 cup balsamic vinegar
1 tablespoon local honey
1/2 teaspoon pink Himalayan salt
1/4 teaspoon freshly-ground black pepper
1/3 cup olive oil

Directions:
Add all ingredients together in a large bowl and drizzle on the dressing. Toss until combined. Serve immediately.
VINAGRETTE:
Whisk all ingredients together for 30 seconds until combined.
Dinner: Collagen Tacos 3 Servings
Ingredients:
2 tilapia fillets – cut in half lengthwise
1/4 cup ground almond flour or flax meal
2 eggs, whisked
1 Tsp of Neocell Collagen Powder
1/2 cup cooked quinoa
2 tbsp coconut oil
Salt and pepper to taste
MANGO SALSA:
1/2 avocado
1/3 cup diced mango
1/3 cup chopped cherry tomatoes
1 diced shallot
1/4 cup chopped cilantro
Juice of 1/2 lemon
Salt and pepper
Heat your coconut oil on the stove, and once it's hot and liquify, add the tilapia to the pan at medium-high heat. You should get a nice sizzle when you start cooking it.
Cook for about 4 minutes on each side. You'll know when to flip the tilapia when the quinoa looks browned and crispy.
Since all fillets vary in size, you can cut into the center of the tilapia to see if it is ready; it should be nice and flaky inside.
Add salt and pepper to each side of fillets. Remove from pan and add your mango-avocado salsa right on top.