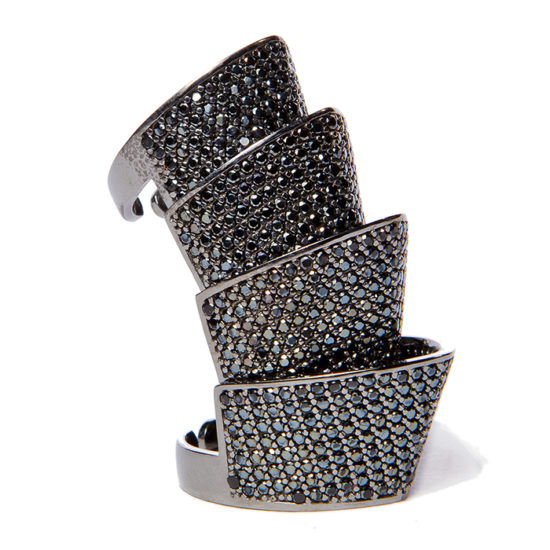 "I've learned to invest in people's similarities, hence was able to create solutions to bridge the differences. My passion for bringing a positive change has been motivated by a clear understanding of the greater impact that collaboration may have amongst diverse groups and communities."
-Jewelry Designer AMANY SHAKER

What makes you the happiest?
"The wellbeing of my kids and seeing them create their own prints on the world."
How do you choose the stones for your jewelry? Where is inspiration from? How hard is to collect material for final pieces?
"Nature and human history are my great inspiration and guidance in my search. I travel to different gemstones international tradeshows and usually land on great finds that match the design ideas I have. Creativity is key while searching for the material that best fits the design."
What motivates you to maintain that level of energy? 
 "My faith in the goodness that we all share and in our given ability to channel it towards building each other up is what motivates me to present the best version of me to myself and others around me. I believe in the gift of the free will that we all have been given and how the choices we make become a valuable launching pad to the next phase of the journey."
Your fav pieces of jewelry and why?
"I'm working on a new collection called 'Samaa' which means the sky in Arabic. The sky is the universal blanket covers and protects all us all with no differentiation between color, race or any orientation. I'm also fascinated by the meaning and power of celestial beings, what they represent in many cultures, and the historical stories associated with them. The unchanging nature of the stars was used to regulate the daily calendar of the most advanced of civilizations. The stars were said to represent the souls of those who departed and are watching over us. The moon was used to guide the travelers on their convoy in the desert, to provide light, direction and sense of protection. I want this new collection to reflect the spirit of the greater protection and guidance that stem for the steady unchanging confidence in knowing who we are. We are the radiant stars, givers of light, providers of protection. We have a strength that can withstand the turbulence of life and shine brighter after the storms. I want Samaa to signify the grace and power that women hold and be a reminder to confidently live in a way that honors the gift we have, being a woman!"
"I find jewelry to be the neutral and beautiful medium that reflects my world and experiences can tell stories about human connection; the kind stories that could transcends cultural barriers. Through my experience in working around the globe I've came to a conclusion of understanding and appreciation of the value of redefining our human connections."
– Jewelry Designer AMANY SHAKER
"I spent most of my career around the world as a mentor and counselor, empowering women and encouraging them to find the qualities that define their uniqueness and individuality."
– Jewelry Designer AMANY SHAKER
What other jewelry designer inspires you and you look up to?
"I'm inspired by the story behind the designer. There are many great stories of hope and perseverance that eventually lead to great success. Alexis Bitar is a great inspiration. Azza Fahmy, 1st female jewelry designer in the Middle East who's become a world leader in the industry is another great inspiration…"
"I grew up around fashion. My dad pioneered the retail side of the fashion industry in Egypt. He built an empire of men and women's clothing stores around Egypt and Paris, France. I learned from my dad to have an eye for beautiful things, to coordinate colors and designs. I've always loved unique designs and styles that project the personality of its wearer more than the popular trends of the year."
-Jewelry Designer AMANY SHAKER