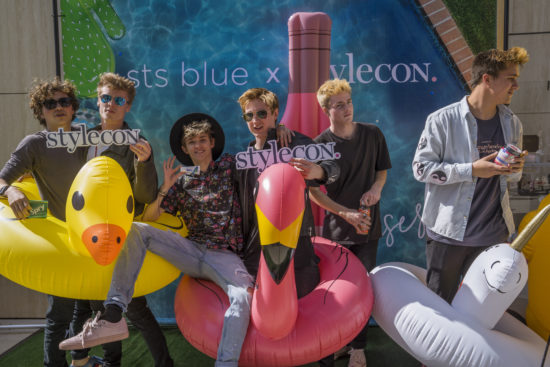 STS Blue and StyleCon collaborated this past weekend to throw one #EPIC pre-festival soiree! On the pool deck of the illustrious Hotel Indigo in DTLA, attendees were greeted with swag bags and their choice of delicious Suja drinks or cocktails, while enjoying some of the delectable treats available at the StyleConGirl snack bar!
Finally getting over the #sweaterweather that hit LA for a hot minute, STS Blue x StyleCon was the perfect event to get away without having to actually leave LA, to get festival ready without having to pay festival prices…yet! Complete with a braid bar, makeup counters, some amazingggg backdrops to take your best selfie and of course STS Blue's most recent collection, it was definitely the place to be this past Saturday!
STS Blue is the place to get all the denim you've been missing in your life, that you may have never known you needed! With their selection of jeans, shorts and jean jackets, they made every person's piece their own as they had a custom embroidery station with each purchase! Los Angeles has always and will always be the 'cool girl' location, where girls are seen more likely dressing up jeans than fixing a hemline, and STS Blue is the brand that will take you from festival to beachside dinner, from date night to your girl's brunch! "The STS muse is trendy, sexy and fun…she wants value, a perfect fit, and a jean that will make heads turn" the team says. All we can say here is #LAFMApproved!