Al'rightie boys, this is LAFM's gift to you this holiday season (so don't expect a gift on your bday, this is it!) – and no worries, we are keeping it short and to the point. Valentines day is literally 2 weeks away and even if you don't care for the holiday, chances are your girlfriend, fiancé, or wife do. Even if they pretend they don't, trust us, they do…and we have a feeling they are expecting something special – it's always the case.
SO, 1st things first – before it's all booked up, make a reservation STAT! Don't worry, this survival guide will be here once you are ready to come back – oh, you need actual places? OK, ok, here's our top 5 places, and yes, we even got you their website and phone numbers:
A Luxury Dining Experience for the Carnivore – Alexander's Steakhouse in Pasadena
(626) 486-1111
A NY type of Feel with a little Sharing – A.O.C. in LA
(310) 859-9859
A Classic 1920's Airy Bistro – Café Birdie in LA
(323) 739-6928
A Panoramic view of the Marina – Café Del Rey in Marina Del Rey
(310) 823-6395
And A vegan feast in Glamour – Crossroads Kitchen in LA
(323) 782-9245

Now that we have a reservation in place let's talk attire. No matter what, ensure to dress for the occasion. Of course we want you to be the man she fell for, but by now we are certain you got a biiiiit comfortable so let's take a moment to run a steamer over that shirt. And remember – study the location. If you chose your favorite diner down the street than you probably don't need to bust out the James Bond attire, but the classier the establishment, the classier the getup. Don't worry, this isn't about being Zoolander down the runway, but we are a fashion magazine and we don't remember a woman ever say, "man, I hate that my man dressed so good yesterday." Got it? Good. Let's move on.
As you prepare for the big day, this step here will win you extra brownie points. Ensure to let her know you made a plan this year but save all the details for the day of…this way when she's expecting to see stars you give her a meteor shower (IG likes x 1000!).
So by now you got your look down and a dinner reservation, but let's be honest this is expected…therefore, what if a bottle of her favorite wine or bubbly comes to your table without it being ordered? I know, we're good….then, the toast this evening is not for valentines day and no it's not about you two as the date either – that is so cliche…instead, toast to her – yes, all her…but make it personal to how she makes you feel, what you love about her, and if you are more serious about her then throw in what you want to do a few months from now for good measure (women like commitment). Don't believe us? When you do this look at her, remember our chat because by now we guarantee you she'll be smiling…oh yeah, and before we forget – "we told you so!"
But enough, now after hours of swooning we're certain dinner has been great and dessert was everything she expected, yaddi yaddi yaddi. It's not over – even if she thinks it is…it's not. See, by now you have cleverly ensured your friend (unless you did this prior) has left a beautifully wrapped present for her back at the house therefore when you take her home, although she truly thinks that was it she is shockingly surprised to see you went extra!
Let us guess, you need advice on the gift too…. Ok, ok….This is the last time! Here are some favorites, but don't expect us to wrap them too…You need that to be personal –
Caterina Jewelry CJ Rose Charm Bracelet, $275.00
Saint Laurent Metal and Leather Love Box Clutch, $1250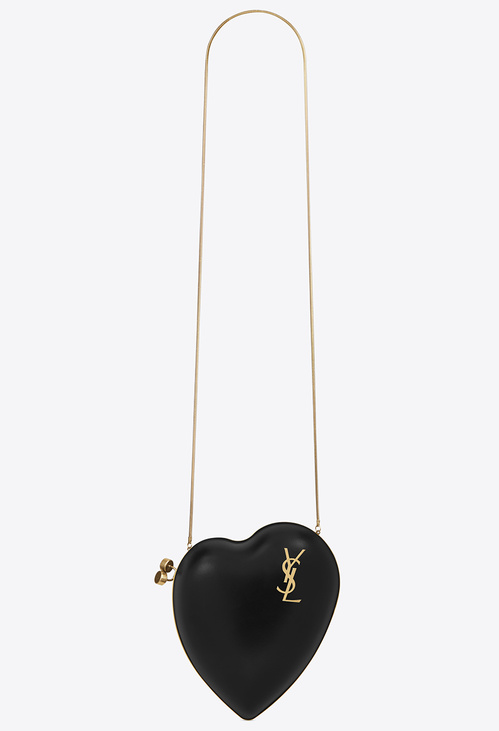 Charlotte Olympia Velour LOVE heels, $875
Atelier Paulin Gold Copper wire AMOUR bracelet, $162
To Whom It May Chocolates, prices may vary
There you are, ready to take on the world and be a true Cassanova!
So go and get your V-day groove on…and yes, we'll be here for you for the next holiday.
XOXO