"To say I'm proud of my students is an understatement. They went to LA with the intention of learning more about fashion, but left with so much more. Their confidence has grown and their thirst for success is unstoppable."
– Lindsay Inglesby, Director of Rare School of Fashion
Born in the rural background of Northwestern England, three fashion students from The Rare School of Fashion recently traveled to the United States for a once-in-a-lifetime adventure. Scoring an internship in the heart of Los Angeles, Emily Hughes, Sean Wainwright, and Jessica Suttonthey worked for six-weeks with some of the city's most renowned design studios.
Hughes, Wainwright, and Sutton, primarily worked for Fabletics. The brand, co-founded by actress Kate Hudson, has a Liverpool-born Vice President – Shaun Kearney – and has been often worn by the Blank Space singer Taylor Swift.
The three interns worked across several departments, including design, styling, photography, and marketing. Sean Wainwright (on the image to the right), was even given the honor of working on designs for various collections, as well as on a Spring Summer '17 collection – just a paragon of all the exciting and unique opportunities these Liverpool students were given.
When interviewed, the Director of The Rare School of Fashion discussed the school's mission in giving its students a professional and realistic environment.
"It's important to us that we provide our students with lots of opportunities. We try and make sure Rare School of Fashion is less like a traditional school, and more like a studio. Doing this helps prepare them for the industry, and allows them to get a taste for what is expected once they graduate."
Below is the brief interview with the three interns, who revisit their experience with insightful and tender remarks.
What was the scariest part of this exciting journey? Did they ever doubt themselves? If so, how did they overcome their insecurities?
Emily Hughes: "The trip to LA was deliberately kept as a surprise, so we were only told that we were going three weeks before we were due to fly. That didn't leave much time for worry: we just had to get our things together, learn as much as we could about LA and Fabletics, and then head over. I was a little apprehensive about leaving my family for so long, but I suppose you've got to get out of your comfort zone If you want to really make something of yourself. We just had to go over there, do our best and remain confident that we had this."
How is L.A. fashion different from British fashion, and how did they have to adapt?
Jessica Sutton: "The first thing you notice in L.A. is how much more relaxed everyone and everything is, including what everyone is wearing. It's a much more laid-back vibe compared to back home. The UK – and in particular Liverpool – has a reputation for everyone getting dressed up and wearing a lot of make-up, whereas in L.A. people seem much more chilled. I guess it has a lot to do with the weather – In Liverpool we don't get as much sun, whereas in L.A. everyone is tanned and glowing, and that must have a huge impact on how confident people feel in their own skin."
Designing a collection is no easy task. What served as inspiration? Did the collection follow a particular theme? If so, why?
Sean Wainwright: "Coming from a school like Rare School of Fashion, we're obviously surrounded by inspiration and totally immersed in what we do. I spent a lot of time in the design studio whilst at Fabletics, and their approach to design was really conceptual and expressive: we would put together mood boards based on colour palates, or seasonal plants and flowers, whatever it took to create the right mood. Working on the Fabletics SS17 collection was much different to anything I had worked on in the past, but I loved the new experience. Everything was so bright, sunny and fresh, which is a different mood to what I usually work on back home. As a designer, I think it's crucial to get the chance to work on as many different looks and feels as possible."
How is feminity expressed differently on the West Coast?
Jessica Sutton: "As a girl from Liverpool, there's a real expectation placed upon you to always get really dressed up. In L.A. it was different though – women would dress in a much more relaxed way, and still looked stunning. It helped me realise that women have nothing to prove, and that's liberating. L.A. definitely helped me understand that expressing femininity is all about being comfortable and confident as a woman, not about how high your heels are."
What comes next in their respective lives?
Jessica Sutton: "After I finish my course, I'd like to study at a top university. I understand how important it is to have a solid, fashion education that will put me in good stead for the future. Rare School of Fashion has set me up with a solid foundation and given me the confidence to go forward in an industry I love. I constantly look to the likes of Alexander Wang for inspiration, and don't want to stop at anything less than best."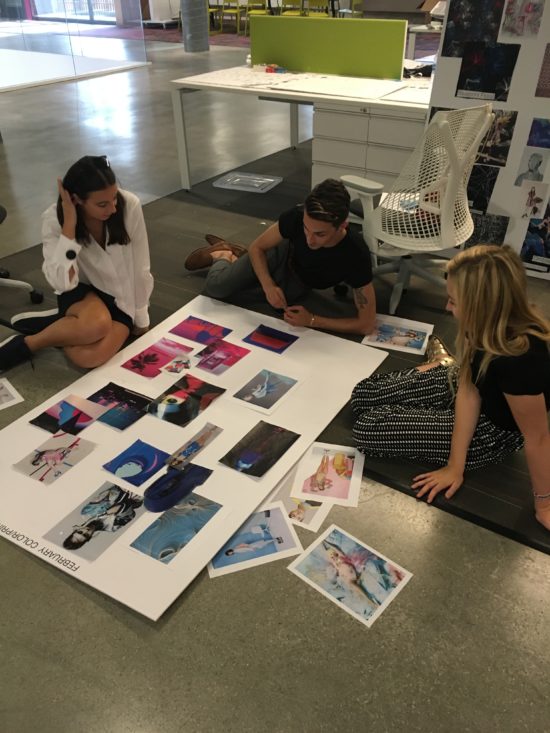 Emily Hughes: "For me, it's all about working towards becoming a fashion photographer. Like my friends, I want to study at university and build on my skills. Liverpool has a thriving creative scene that inspires me daily, and I want to be a part of that as much as possible. This year, The Clothes Show is moving from Birmingham to Liverpool which is a big deal because it means Liverpool is being taken seriously as a fashion destination. Oh, and I also wouldn't mind having the success of Ellen Von Unwerth."
Sean Wainwright: "I'm very excited to see what the future has to hold. Being a student at Rare School of Fashion has really helped me to channel my creativity as well as making me realise how much I love fashion design. I'm currently working on my portfolio and want to make sure it's industry standard. If the right opportunity landed, I'd feel more than ready to step into the world of fashion."
To learn more about The Rare School of Fashion or to contact them, CLICK HERE