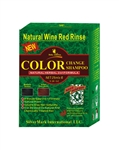 Deity America specializes in natural hair care products made with plant extracts from Tibet, China. These plant extracts have been used in Tibet for centuries with effective results that prevent hair loss. The plant extracts, herbs and oils are carefully blended to rejuvenate hair and scalp. Their products contain natural ingredients formulated to cleanse the scalp, accelerate hair growth, and eliminate inflammation. Aside from healing dry and itchy scalp, their products also work to moisturize and repair hair, restoring its health, shine and softness. So get rid of all the harsh and harmful products and go natural!
For over 10 years, they have been helping customers prevent hair loss. If you have problems with hair loss, hair thinning, Alopecia, dry and itchy scalp, give their products a try!
They also offer skin care and other beauty and healthcare products. Use products consistently for best results. Results may vary, always do a patch test before complete application.
Here is few of our fav:
is made with plant extracts that rapidly penetrates into the skin to effectively nourish the scalp and prevent hair loss. Prevents and stops alopecia, promotes blood circulation of scalp, and strengthens the firmness of hair follicle and hair root.
Plant Conditioner is synthesized painstakingly through high emulsification of active essential ingredients from rare Tibetan medicated herbs using modern extracting technology. Because of its various botanical ingredients, this conditioner has a mild quality, and can effectively remove all kinds of secretions and dirt on scalp. It also thoroughly purifies the outside environment for hair growth and rapidly penetrates into the inner layer of scalp to provide multiple nutrients and trace elements for hair growth. This is suitable for withered, tangled hair and damaged hair due to bleaching, coloring, perms and other chemicals.
uses Tibet plant extracts of pure natural Tibetan medicine. It is extracted and refined by using advanced technology. Through combing and massaging, efficacy of medicines can pass through epidermis, reaching deeply into subcutaneous tissue, stimulate nerve end, renew and enhance the function of melanin cell, promote the compounding of melanin; supplement energy and nourish the blood, benefit the energy and keep the blood, dredge the micro circulation of scalp, and improve local blood circulation. This product has no toxicity and side effects. Gray hair may turn black after prolong use.
is an extra-strength scalp treatment serum made with nutmeg and Argan oil to promote hair growth and to nourish scalp. Nutmeg is a fragrant ingredient that has moisturizing and antibacterial properties that will treat dry and itchy scalp. Argan oil is a much sought-after product coveted for its nutritious properties.
Repairing Essence Hair Lotion
has a natural nourishing herbal formula that repairs and strengthens hair for silky smooth and shiny results. To use, shampoo hair and towel dry as normal. Apply a quarter-size or more of Repairing Essence Daily Moisturizing Lotion (or more depending on hair length) to damp or dry hair, finger comb through or use a wide-toothed comb to distribute evenly.
Hydrating & Repairing Scalp Treatment
made with Shea butter for healthy scalp and hair. Their hydrating formula repairs scalp and over-treated hair due to harmful chemicals and heat. This treatment is made with Tibetan plant extracts, Asian herbs, and Shea butter and botanical ingredients.
Natural Edge Tamer Pomade provides maximum hold and shine while adding natural shine with their special AcceleRare Formula. Light and non- sticky, Natural Edge Tamer Pomade gives natural look and hold.
Tibet Temple & Nape Penetrating Oil
is used for braids, dreads, twists and locks. This product soothes and stops itchy scalp using natural plant extracts, as well as reduces inflammation, helps prevent Alopecia, and promotes hair growth.
Tibet Tonic Hair Growth Restorer
is made with scientific bio-technology using Tibetan herbal theories. There are several Tibetan authoritative agencies that have identified this hair growth restorer tonic as the most ideal hair growth tonic ever made! This tonic works on all types of hair – Caucasian, African American, Asian, and Hispanic. This advanced tonic improves blood circulation to the follicles and enhances the capillary vessels of the follicles. This all results in stimulating the follicle which assists the hair to grow healthy.