Surviving in a land of plagues, filth, desolation and retribution. Will style matter in a post-apocalyptic world? Absolutely. The very core of our humanistic foundation would be rocked. Talisman charms and other artisan crafted jewelry and clothing would be worn to represent tribes, factions and status within.
In this world with no boundaries, fashion becomes the truest expression of who we are. As seen here, the story of two soul sisters cast out into the Badlands, where only the strong survive… the warrior in each of us must emerge. We see an Ancient Talisman Indie vibe. Living in a futuristic Artist community. Striving to cultivate a faction of Artisans, Healers and Shamans.
Pairing raw savage beauty with rich textures and what comes from the earth are the basis of what is created in this new world. The featured leather tops are primal and cut from what has clothed human kind since the beginning. Necessary fashion becomes exotic and beautiful… Women embracing talisman charms filled with symbolism and power. Wearing hand forged warrioresque brass cuffs and amulets signifying resurrection and the birth of a new world.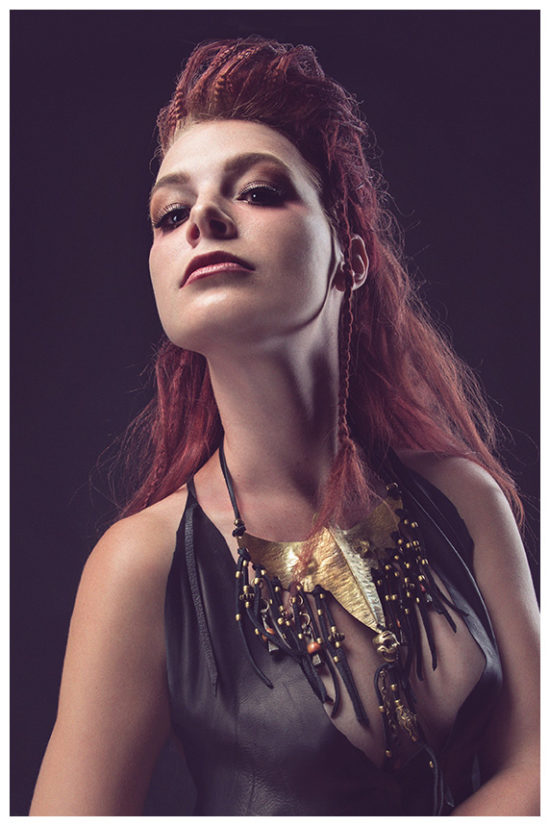 Photographer: Jamie Solorio
Jewelry by: Ursula Guderian
Clothing by: Stacey Arcangel
Model 1: Chloee Escobedo
Model 2: Audrey Becker
Makeup by: Jen Siqueiros
Hair by: Troy Hawkins
Co-Written: Stacy Arcangel and Ursula Guderian