On March 19th, 2016, the Simply Stylist conference will be held at The Grove in Los Angeles.  Over the past four years, Simply Stylist has become an excellent platform for aspiring stylists, bloggers, and fashionistas to gain an insider's point of the view of the fashion industry.  Founder, Sarah Boyd, took some time to chat with The L.A. Fashion about this great conference and all of the amazing things this event has in store for its attendees.
Give our readers some background on yourself and how Simply Stylist came about.
I moved to L.A. from Pennsylvania about 12 years ago to pursue my dream of working in Fashion PR.  I did PR for about 10 years, and during that time, I built lots of relationships in the industry with top stylists, celebrities, and bloggers.  I loved that end of the industry and when I decided to move on from the PR side of things, I wanted to create a platform for emerging stylists, bloggers and insiders to have a kind environment to connect and network and build relationships in the industry.  Simply Stylist allows guests to hear from top stylists, bloggers, and designers that have made it in the industry even through failures.  It's a tough industry, and it's hard to know what to expect unless you hear it from someone who's been through it.  There isn't really any school or degree that specializes in celebrity styling or fashion blogging.  Simply Stylist creates an environment where people can learn from these people and their success stories.
The first Simply Stylist conference launched 4 years ago here in Los Angeles, with a sold out event of 750 attendees.  We always partner with an anti-bullying charity like, Love is Louder.  We started in L.A. and added a conference in New York, and most recently, Chicago.  We have plans to expand to an international level one day.
What is the overall goal for Simply Stylist?
To always continue to help industry hopefuls, bloggers, and stylists of tomorrow.  We aim to always have cutting edge speakers and people at the top of their game.  We want to always raise the bar on our events and give our attendees something they can walk away with to better their careers, and to expand their rolodex of contacts.
Do you think your approach to Simply Stylist is different in L.A. in comparison to your other cities?
Definitely!  L.A is where everyone lives!  It's much easier to get a killer roster for our panel.  All of the celebrity stylists and bloggers live here, so it's much easier to get a great group of speakers.  Plus, it's L.A.!  It's all about being green, and we hold the event outside at The Grove, and we have beautiful weather.  All of those factors come into play.  It's all about the L.A. Instagram moments.  Los Angeles is definitely one of our front conferences because we have so many great panelists and fun activations.
Our Chicago event is inside a beautiful boutique hotel called, The Dana, and it's only one panel, but it lasts for 3 hours for a more in-depth look at our panelists.  New York's event is the same format as L.A., but it's indoors in a beautiful hotel and more business-like in structure.
The amazing Tyra Banks will be the keynote speaker for Simply Stylist in L.A. on the 19th.  How does it feel to have someone of her stature be a part of this event?
I am so excited!  I cannot wait to hear her.  She's like Oprah!  Tyra Banks has made an amazing career for herself, and she's a nice person.  She has paved her way in the industry and I think she's going to have a great story.  She just launched her Tyra beauty line for her makeup collection, and she'll touch on that as well.  Everyone can experience her new line first hand after the panel.  Plus, this is her first appearance after having her baby, so we're so happy that this is her first event.  She'll be doing a 45 minute speech and then a Q&A with the whole audience.
What all can the attendees expect at the upcoming Simply Stylist event in L.A.?
If you get the VIP ticket, you will have access to all of the panels; a fabulous gift bag valued at $1000; custom business cards created by Minted; a DIY porridge and açai bar for breakfast; a networking lunch hosted by our charity partner, Love is Louder, and it's founder, Brittany Snow and partners.
The brand experience portion of the event includes various activations.  You'll be able to get your makeup done and hair done, or get your hair tinted.  A fashion illustrator will be on-site sketching illustrations of people's outfits.  We have an open bar and five additional breakout 30-minute sessions covering topics like small business tips, social media, blogs, and being a Girl Boss.  It's definitely a packed day!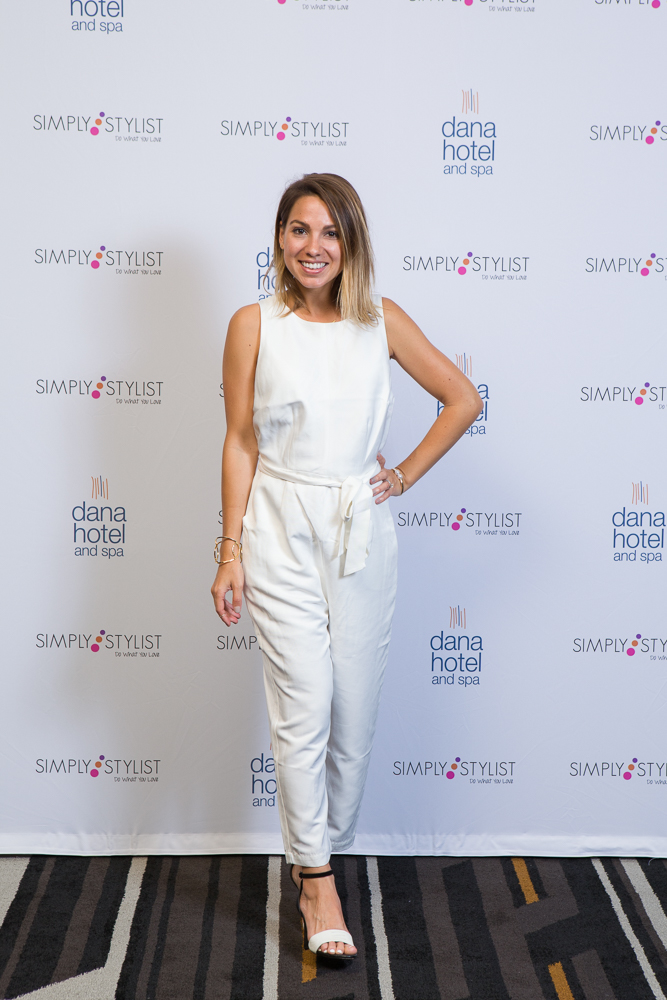 To learn more about Sarah Boyd and about how to attend Simply Stylist, check out www.SimplyStylist.com