It's Fashion Week in Australia's Sydney this week and I'm here to document the catwalk!
Every fashion week is generally designed so that the designers that are either from that country or reside there have a chance to show off their looks. DKNY, Tommy Hilfiger, Noon by Noor, and Zac Posen are what you'd expect for NYFW, Chanel, YSL for Paris FW, Burberry, Alexander Mcqueen for London Fashion Week, and the list goes on. While designers can and do showcase specific collections, such as Dior coming to LA for it's 2018 cruise collection, during fashion week, expect that countries' designers. So, for Mercedes-Benz Fashion Week in Sydney, the designers were the best of the best of Aussie fashion. Some of the notable designers who had shows were: Alice McCall & Steven Khalil on Monday, and Michael Lo Sordo on Tuesday and Dyspnea on Thursday. The Aussies may be down under but they definitely know how to pull off a great ensemble, let's take a closer look!
Alice McCall
 Alice McCall, the London born Australian with the heavily clientele list including Mandy Moore, Diane Kruger and Elle McPherson has come a long way since her days as a stylist and her most recent collection distinguishes her as one of the top designers in this fashion week and in this fashion season. Her mix of feathers, ruffles, and florals was feminine, glamorous, and all over amazing. Alice-if you're ever willing to dress me up in your chic designs, let me know…
Michael Lo Sordo
Michael Lo Sordo's collection was a take on the modern woman, what is described as a "woman [who] stands out – for all the right reasons. She's a razor sharp romantic minimalist, she's sophisticated, she'll wow a crowd, and she can dance. She shares the designers instinctive passion for quality, longevity and individuality." His mix of satin styles and women-wearing-menswear designs all featured the models wearing bright red tights with open-toed sandals, playing into the idea of a glamorous and career driven fashionista, who takes fashion risks-which Sordo has so expertly cultivated.
Steven Khalil
What can I say about Steven Khalil? Not much, and that's only because I wasn't aware of his designs, and for that I want to kick myself. Seeing his designs strut down the runway this past Monday hit me like a bus that said "where have these gowns been all my life???"  Apparently the rest of the world didn't share my negligence as the Aussie has dressed the likes of Emily Ratajkowski, Taraji P. Henson and Bella Thorne in the past, and his most recent collection of glamorous gowns with a bygone-era esque demeanor and modern design was absolutely exceptional! This designer is definitely one to watch-see for yourself below: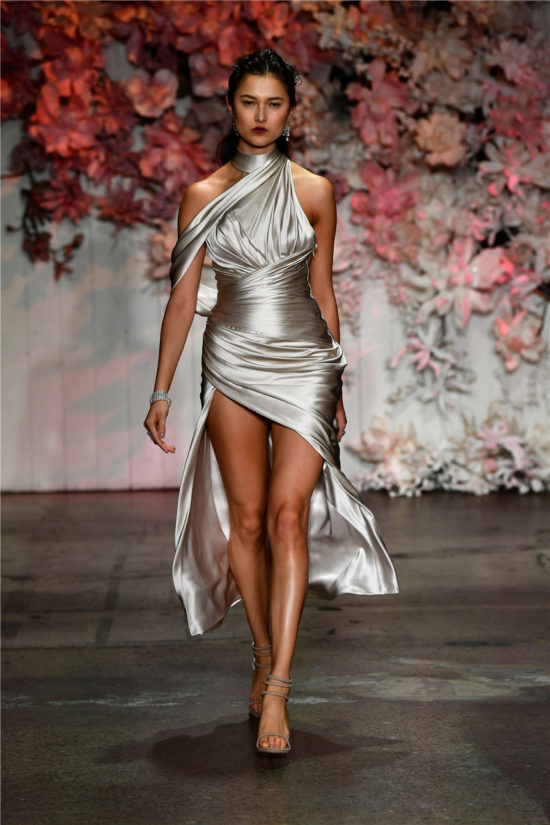 From florals to feathers, ruffles to red tights, this year's Mercedes Benz Fashion Week in Australia has been an amazing mix of talented designers showcasing some great looks. All I can say is, I know where I'll be next May!