The​ ​Secret​ ​Code​ ​Of​ ​Fashion​ ​​is​ ​an​ ​international​ ​platform​ ​specialized​ ​in​ ​public​ ​relations​ ​and​ ​brand strategy​ ​agency​ ​based​ ​in​ ​Milan, dedicated to young designers and new talents worldwide.​ ​The agency ​curates​ ​year-round​ ​events​ ​based​ ​on​ ​fashion​ ​scout​ ​that​ ​connects new​ ​talents​ ​in​ ​fashion​ ​industry​ ​with​ ​visionary​ ​brand​ ​partners​ ​like​ ​​Mad​ ​Mood​ ​Milano.​​ ​The agency​ ​decided​ ​to​ ​bring​ ​to​ ​life​ ​in​ ​a​ ​different​ ​way​ ​her​ ​new​ ​platform​ ​dedicated​ ​to​ ​new​ ​talents from​ ​fashion​ ​industry​ ​through​ ​her​ ​branding​ ​agency,​ ​The​ ​Secret​ ​Code​ ​Of​ ​Fashion​ ​from​ ​Milan,​ ​and decided​ ​to​ ​create​ ​creative​ ​runways​ ​for​ ​international​ ​young​ ​designers​ ​from​ ​all​ ​over​ ​the​ ​world.​ ​After​ ​the huge​ ​success​ ​at​ ​Feeric​ ​Fashion​ ​Week, ​ the project​decided​ ​to​ ​move​ ​forward​ ​with​ ​the​ ​project bringing​ ​fashion​ ​students​ ​and​ ​emerging​ ​talents​ ​from​ ​different​ ​European​ ​countries​ ​like​ ​United Kingdom,​ ​Montenegro, Bulgaria,​ ​Polonia​ ​or​ ​France​ ​at​ ​Mad​ ​Mood​ ​during​ ​Milan​ ​Fashion​ ​Week​ ​in​ ​September​ ​2017.
KATIE GEMENTERA 
Katie Gementera is a young Fashion Designer located in London, United Kingdom. From a young age, Fashion Design was the dream career to pursue. With fashion and textiles training over the years and a foundation degree in Art & Design, Katie was accepted into the renowned Parsons: The New school of Design in NYC, US, in 2013 where she began her BFA degree. In 2015, Katie transferred campus' to Parsons Paris, France for a semester abroad. After falling in love with the City, Katie applied to complete her Final Year in 2016 at the Parsons Paris campus. During 2015 and 2016, she was based in London, UK and spent the year interning for high end luxury womenswear and couture brands where her knowledge was extended and skills enhanced in the working industry. This placement year allowed for a strong basis leading into her 2017 Graduate Collection: Growing up Now. The brand strives for creativity and playfulness throughout design with strong emphasis on creating something fresh, feminine and fun! The clothes are about creating a 'feeling' in people that they can resonate with instantly.
The​ ​personal​ ​memories​ ​of​ ​the​ ​open-air​ ​games​ ​and childhood​ ​experiences​ ​lived​ ​by​ ​the​ ​designer​ ​give​ ​rise​ ​to​ ​a​ ​womenswear​ ​collection​ ​in​ ​which playfulness,​ ​freedom,​ ​innocence​ ​and​ ​nostalgia​ ​are​ ​expressed​ ​through​ ​the​ ​contemporaneity​ ​of oversized​ ​geometries,​ ​exuberant​ ​ribbons​ ​and​ ​ludic​ ​accessories.
The​ ​collection​ ​is​ ​built​ ​in​ ​response​ ​to​ ​today's​ ​childish​ ​ideals.​ ​It​ ​is​ ​simple​ ​to​ ​forget​ ​how​ ​we​ ​started​ ​our life,​ ​and​ ​in​ ​an​ ​increasingly​ ​digital​ ​generation,​ ​it's​ ​important​ ​to​ ​keep​ ​childish​ ​traits,​ ​such​ ​as​ ​freedom, naivety,​ ​or​ ​innocence.
BORYANA PETROVA 
Boryana​ ​Petrova​ ​has​ ​strong​ ​interdisciplinary​ ​background​ ​in​ ​art​ ​with​ ​a​ ​Bachelor's​ ​degree​ ​in​ ​​Painting (National​ ​Academy​ ​of​ ​Arts)​ ​and​ ​Masters'​ ​in​ ​​Digital​ ​Arts​ ​​(NAA)​ ​as​ ​well​ ​as​ ​​Fashion​ ​and​ ​Business strategies​ ​​(New​ ​Bulgarian​ ​University).​ ​The​ ​inspiration​ ​behind​ ​the​ ​brand​ ​BoryanaPetrova​ ​comes​ ​from the​ ​field​ ​of​ ​visual​ ​arts,​ ​but​ ​it​ ​speaks​ ​of​ ​present​ ​day​ ​subjects,​ ​such​ ​as​ ​technological​ ​progress, biomimetics​ ​and​ ​environmental​ ​issues.​ ​The​ ​designs​ ​stand​ ​out​ ​with​ ​innovative​ ​color​ ​usage​ ​and​ ​the integration​ ​of​ ​electronic​ ​components​ ​and​ ​external​ ​to​ ​the​ ​body​ ​elements​ ​like​ ​light,​ ​wind​ ​or​ ​magnetic fields.​ ​The​ ​form​ ​and​ ​patterns​ ​presented​ ​by​ ​the​ ​brand​ ​are​ ​crafted​ ​through​ ​traditional​ ​garment​ ​and textile​ ​construction​ ​techniques​ ​and​ ​are​ ​influenced​ ​by​ ​nature,​ ​civilization​ ​and​ ​history​ ​of​ ​art.​ ​Petrova's first​ ​collection​ ​-​ ​Biotrace,​ ​is​ ​inspired​ ​by​ ​images​ ​of​ ​microbes​ ​under​ ​a​ ​microscope.​ ​The​ ​color​ ​palette​ ​is influenced​ ​by​ ​Impressionism​ ​and​ ​Neoimpressionism​ ​in​ ​painting​ ​and​ ​the​ ​patterns​ ​-​ ​by​ ​Glitch​ ​and​ ​Pop art.​ ​The​ ​textiles​ ​are​ ​covered​ ​in​ ​neon​ ​prints​ ​and​ ​silicone​ ​tubes​ ​which​ ​glow​ ​under​ ​black​ ​light​ ​and​ ​in​ ​the dark,​ ​much​ ​like​ ​some​ ​strains​ ​of​ ​microbes.​ ​The​ ​silhouette​ ​and​ ​tailoring​ ​patterns​ ​are​ ​a​ ​take​ ​on​ ​the typical​ ​tomboy​ ​look​ ​-​ ​bomber​ ​jacket​ ​and​ ​oversize​ ​trousers,​ ​but​ ​combined​ ​with​ ​round​ ​shoulders,​ ​pleats and​ ​tight​ ​waist.​ ​The​ ​merging​ ​of​ ​these​ ​elements,​ ​normative​ ​for​ ​both​ ​men's​ ​and​ ​women's​ ​clothing, gives​ ​women​ ​the​ ​chance​ ​to​ ​find​ ​their​ ​identity,​ ​wherever​ ​in​ ​the​ ​full​ ​gender​ ​spectrum​ ​that​ ​might​ ​be.​ ​The materials​ ​used​ ​in​ ​the​ ​collection​ ​are​ ​wool,​ ​cotton​ ​and​ ​polyester.​ ​The​ ​Biotrace​ ​collection​ ​was​ ​first​ ​shown at​ ​the​ ​end​ ​of​ ​May​ ​as​ ​part​ ​of​ ​​Fashion​ ​Forecast​ ​2018​,​ ​the​ ​graduate​ ​fashion​ ​show​ ​for​ ​New​ ​Bulgarian Univer​sity's​ ​Master​ ​Program​ ​in​ ​​Fashion​ ​and​ ​Business​ ​Strategies​.​ ​A​ ​few​ ​weeks​ ​later​ ​it​ ​was​ ​presented a​ ​an​ ​individual​ ​show​ ​during​ ​​Balkan​ ​Fashion​ ​Week​ ​2017​ ​​and​ ​was​ ​part​ ​of​ ​the​ ​young​ ​talents​ ​project during​ ​Feeric​ ​Fashion​ ​Week​ ​2017.
SANJA MATIJEVIC
Sanja Matijevic finished BA in fashion design in 2007. She showcased her first collection in summer 2007 amoung 7 international names (Tony Ward, Gianni Calignano etc. ) at Fashion festival Budva. In 2010 she did her fashion design course at Instituto Europeo di Design in Milan. In 2012 she finished her master studies in fashion design. Since then , she has been actively showing her collections. Inspiration is traditional wear from Boka bay , where she comes from, with a modern twist and cuts. She is mainly inspired by men' s wear traditional uniform , especially by captains and generals uniform where she transforms masculine cuts into feminine pieces. Lot of hand made details are used in her collections. She focuses a lot on details and cuts , but keeps the form of the garment simple and elegant. Her last Spring-Summer 2018 collection "Military Glam" is inspired the the dukes of Montenegro and was shown at Mad Mood in Milan, during Milan Fashion Week this September 2018. Apart collection, she is also doing custom made clothes for women and men, too.
NIKKI HENDRICKS
The​​ ​​youngest​​ ​​and​​ ​​only​​ ​​African-American​​ ​​designer​​ ​​of​​ ​​28​​ ​​chosen​​ ​​to​​ ​​appear​​ ​​in​​ ​​New​​ ​​York's​ ​Fashion​ ​Week,​​ ​​​​ ​​was​​ ​​suddenly​​ ​​recruited​​ ​​to​​ ​​appear​​ ​​in​​ ​​Milan,​​ ​​with​​ ​​designs​​ ​​described​​ ​​as​​ ​​"incredibly​ ​fresh​​ ​​and​ ​different."​​ ​​​​ ​​The​​ ​​reluctant​​ ​​designer​​ ​​is​​ ​​here​​ ​​to​​ ​​impress,​​ ​​and​​ ​​to​​ ​​unite​​ ​​people​​ ​​in​​ ​​fashion.​ ​The​​ ​​twenty-three​ ​year​​ ​​old​​ ​​phenom​​ ​​recently​​ ​​graduated​​ ​​from​​ ​​the​​ ​​prestigious​​ ​​Maryland​​ ​​Institute​ ​College​​ ​​of​​ ​​Art​​ ​​(MICA),​​ ​​but​ ​fashion​​ ​​chose​​ ​​her.​​ ​​Offered​​ ​​scholarships​​ ​​at​​ ​​several​​ ​​colleges​​ ​​for​ ​filmmaking,​​ ​​Nikki​​ ​​first​​ ​​aspired​​ ​​to​​ ​​be​​ ​​a​ ​filmmaker.​ ​But​​ ​​all​​ ​​that​​ ​​changed​​ ​​when​​ ​​she​​ ​​developed​​ ​​a​​ ​​fashion​​ ​​line​​ ​​in​​ ​​2015,​​ ​​called​​ ​​L'Oshun​​ ​​de​​ ​​Marine​ ​for​​ ​​a​ ​college​​ ​​class.​​ ​​Six​​ ​​local​​ ​​presenters​​ ​​asked​​ ​​to​​ ​​show​​ ​​her​​ ​​line,​​ ​​plus​​ ​​DC​​ ​​Fashion​​ ​​Week.​​ ​​The​​ ​​next​ ​year​ ​she​​ ​​developed,​​ ​​"the​​ ​​Blends."​​ ​​She​​ ​​was​​ ​​invited​​ ​​to​​ ​​four​​ ​​more​​ ​​shows,​​ ​​then​​ ​​to​​ ​​the​​ ​​New​​ ​​York​ ​and​​ ​​Paris​ ​Fashion​​ ​​Week.​​ ​​​​ ​​A​​ ​​star​​ ​​was​​ ​​born.​ ​Nikki​​ ​​Hendricks​​ ​​uses​​ ​​bold​​ ​​patterns​​ ​​and​​ ​​eccentric​​ ​​materials​​ ​​in​​ ​​her​ ​designs.​​ ​​She​​ ​​draws​​ ​​inspiration​ ​from​​ ​​the​​ ​​futurism​​ ​​genre​​ ​​for​​ ​​her​​ ​​style​​ ​​and​​ ​​underlying​​ ​​content​​ ​​about​ ​race,​​ ​​religion,​​ ​​gender​​ ​​and​ ​sexuality.​​ ​​​​ ​​She​​ ​​has​​ ​​a​​ ​​fine​​ ​​arts​​ ​​background​​ ​​and​​ ​​works​​ ​​conceptually​​ ​​when​ ​creating​​ ​​themes​​ ​​for​​ ​​her​ ​lines.​​ ​​The​​ ​​exploration​​ ​​of​​ ​​different​​ ​​culture​​ ​​and​​ ​​identities​​ ​​are​​ ​​consistent​​ ​​within​ ​her​​ ​​collections.​ ​Nikki​​ ​​Hendricks​​ ​​Designs​​ ​​includes​​ ​​looks​​ ​​that​​ ​​are​​ ​​gender​​ ​​neutral,​​ ​​masculine​​ ​​and​ ​feminine.​​ ​​"There​ ​is​​ ​​a​​ ​​global​​ ​​diversity​​ ​​trend​​ ​​transcends​​ ​​race,​​ ​​gender,​​ ​​size​​ ​​or​​ ​​sexuality.​​ ​​It​​ ​​defies​​ ​​the​ ​hate​​ ​​and​ ​division​​ ​​around​​ ​​us.​​ ​​That's​​ ​​what​​ ​​I​​ ​​try​​ ​​to​​ ​​capture​​ ​​in​​ ​​my​​ ​​fashion.​​ ​​​​ ​​The​​ ​​colors​​ ​​and​​ ​​textures​​ ​​of fashion,​​ ​​in​​ ​​its​​ ​​most​​ ​​pure​​ ​​form,​​ ​​​​ ​​are​​ ​​what​​ ​​binds​​ ​​us,​​ ​​even​​ ​​in​​ ​​the​​ ​​most​​ ​​difficult​​ ​​of​​ ​​times."​ ​Nikki​​ ​​Hendricks​ ​started​​ ​​her​​ ​​collection​​ ​​"The​​ ​​Blends"​​ ​​by​​ ​​interviewing​​ ​​16​​ ​​models​​ ​​of​​ ​​different​ ​religious,​​ ​​racial,​​ ​​and​ ​sexuality​​ ​​backgrounds​​ ​​about​​ ​​their​​ ​​cultural​​ ​​identity.​​ ​​With​​ ​​the​​ ​​global​​ ​​political​ ​and​​ ​​social​​ ​​atmosphere​ ​becoming​​ ​​more​​ ​​divided,​​ ​​despite​​ ​​the​​ ​​gains​​ ​​in​​ ​​diversity,​​ ​​the​​ ​​purpose​​ ​​of​ ​creating​​ ​​this​​ ​​line​​ ​​was​​ ​​to​​ ​​help​ ​people​​ ​​see​​ ​​what​​ ​​collectively​​ ​​unites​​ ​​them.​​ ​​​​ ​​She​​ ​​asked​​ ​​the​​ ​​models​ ​such​​ ​​questions​​ ​​as​​ ​​"what​​ ​​do​​ ​​you​​ ​​do​ ​with​​ ​​your​​ ​​family​​ ​​on​​ ​​a​​ ​​Sunday​​ ​​afternoon"​​ ​​and​​ ​​surprisingly​ ​there​​ ​​were​​ ​​similar​​ ​​answers.​​ ​​She​​ ​​also​​ ​​asked​ ​what​​ ​​symbol​​ ​​best​​ ​​represented​​ ​​their​​ ​​cultural​​ ​​identity,​ ​then​​ ​​she​​ ​​designed​​ ​​a​​ ​​pattern​​ ​​incorporating​​ ​​most​​ ​​of​ ​what​​ ​​the​​ ​​models​​ ​​chose.​​ ​​The​​ ​​pattern​​ ​​is​​ ​​meant​ ​to​​ ​​look​​ ​​abstracted​​ ​​from​​ ​​far​​ ​​away​​ ​​but​​ ​​up​​ ​​close​​ ​​one​​ ​​can​ ​see​​ ​​each​​ ​​of​​ ​​the​​ ​​symbols.​​ ​​The​​ ​​use​​ ​​of​​ ​​vinyl​ ​and​​ ​​neoprene​​ ​​were​​ ​​aesthetic​​ ​​choices​​ ​​to​​ ​​dress​​ ​​up​​ ​​the​​ ​​basic​ ​designs.​ ​She​​ ​​is​​ ​​working​​ ​​on​​ ​​lines​​ ​​for​​ ​​larger​​ ​​"real"​​ ​​women,​​ ​​and​​ ​​was​​ ​​asked​​ ​​to​​ ​​develop​​ ​​a​​ ​​specialized​​ ​​line​ ​for​ ​clergy.​​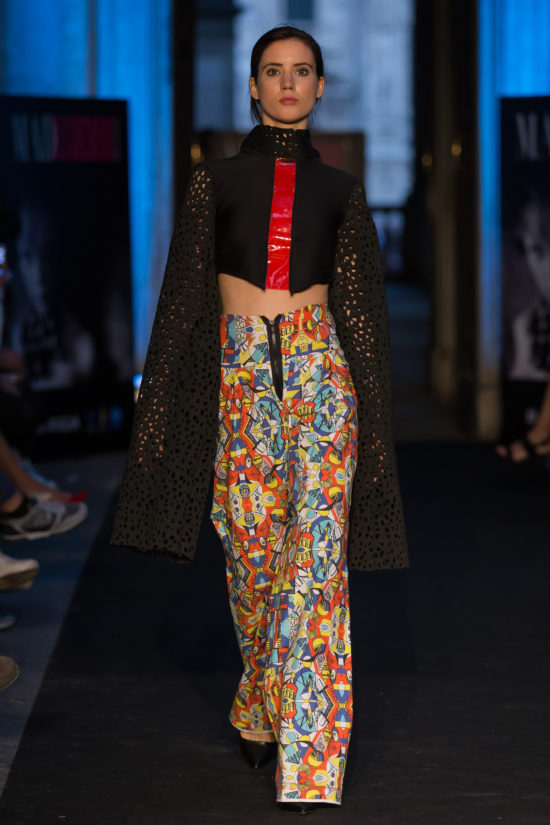 ROSES OF THE QUEEN'S DOG 
Roses​ ​of​ ​the​ ​Queen's​ ​Dog​ ​is​ ​a​ ​Bulgarian​ ​fashion​ ​brand​ ​based​ ​in​ ​Sofia,​ ​Bulgaria.​ ​The​ ​brand​ ​starts​ ​its life​ ​in​ ​March​ ​2017​ ​with​ ​poetical,​ ​flamboyant​ ​collection​ ​under​ ​the​ ​brand's​ ​name.​ ​​ ​ROSES​ ​OF​ ​THE QUEEN'S​ ​DOG​ ​is​ ​a​ ​poetical,​ ​enchanting​ ​and​ ​picturesque​ ​collection​ ​named​ ​after​ ​the​ ​label.​ ​Perfectly beautiful​ ​and​ ​mystically​ ​surrounded​ ​with​ ​thorns,​ ​the​ ​rose​ ​protects,​ ​when​ ​entangled​ ​in​ ​barrier​ ​walls. Here​ ​is​ ​where​ ​the​ ​symbolical​ ​connection​ ​with​ ​the​ ​contemporary​ ​person​ ​is​ ​represented.​ ​Lost​ ​his ground​ ​under​ ​his​ ​feet,​ ​uncertain​ ​and​ ​somehow​ ​destined​ ​to​ ​imperfection. Colors​ ​of​ ​red,​ ​blue,​ ​white,​ ​yellow,​ ​green​ ​and​ ​brown​ ​form​ ​three​ ​dimensional​ ​pictures​ ​and​ ​the​ ​style​ ​is​ ​a fresh​ ​youth​ ​eclectic​ ​between​ ​the​ ​vanguard,​ ​sporty​ ​and​ ​classical​ ​patterns​ ​with​ ​a​ ​fresh​ ​wink.​ ​The presentation​ ​of​ ​the​ ​collection​ ​is​ ​inspired​ ​by​ ​the​ ​beautiful​ ​allegoric​ ​Dutch​ ​still​ ​lifes​ ​from​ ​the​ ​17th. century.​ ​The​ ​topics​ ​of​ ​the​ ​opulence,​ ​of​ ​the​ ​magnificence​ ​and​ ​the​ ​general​ ​transcience​ ​in​ ​the​ ​world​ ​are now​ ​represented​ ​by​ ​the​ ​modern​ ​design​ ​which​ ​reverts​ ​the​ ​sent​ ​messages.
ODYSAY 
Founded​ ​in​ ​2015​ ​in​ ​Geneva,​ ​ODYSAY​ ​was​ ​born​ ​with​ ​a​ ​wish:​ ​to​ ​make​ ​every​ ​important​ ​moment​ ​of​ ​a woman's​ ​life​ ​more​ ​sumptuous.​ ​The​ ​ODYSAY​ ​silhouette​ ​has​ ​a​ ​distinct​ ​look:​ ​dresses​ ​are​ ​cut​ ​to​ ​clean and​ ​minimalist​ ​lines.​ ​Styles​ ​are​ ​deliberately​ ​uncluttered.​ ​Distinctive​ ​embellishments​ ​add​ ​surprising, delightful​ ​and​ ​highly​ ​feminine​ ​accents.​ ​The​ ​result​ ​is​ ​a​ ​dress​ ​of​ ​sensual​ ​and​ ​timeless​ ​elegance​ ​that favors​ ​lasting​ ​style​ ​over​ ​fleeting​ ​trends.
All​ ​ODYSAY​ ​pieces​ ​are​ ​designed​ ​in​ ​Switzerland​ ​and​ ​crafted​ ​in​ ​small​ ​ateliers​ ​in​ ​Europe.​ ​Geographical proximity​ ​allows​ ​for​ ​a​ ​tight​ ​quality​ ​control​ ​but​ ​also​ ​provides​ ​a​ ​'responsible'​ ​approach​ ​to​ ​manufacturing. Each​ ​piece​ ​is​ ​created​ ​with​ ​carefully​ ​sourced​ ​natural​ ​materials​ ​and​ ​the​ ​finest​ ​fabrics.
Soňa​ ​Šidalová​ ​Barras,​ ​the​ ​designer​ ​behind​ ​ODYSAY,​​ ​presented​ ​some​ ​of​ ​the​ ​pieces​ ​of​ ​her​ ​new SS18​ ​collection​ ​at ​​the ​​Mad ​​Mood​​ Milan​​ Fashion​​ Week​​ on ​​Sunday,​​ September​​ 24t​h​.​​ The​​ featured brand​ ​is​ ​a​ ​luxury,​ ​yet​ ​approachable​ ​ready-to-wear​ ​evening wear​ ​and​ ​bridal​ ​label​ ​based​ ​in​ ​Geneva. Quality,​ ​style​ ​and​ ​a​ ​strong​ ​sense​ ​of​ ​feminine​ ​aesthetics​ ​are​ ​the​ ​cornerstone​ ​of​ ​the​ ​brand's​ ​DNA. ODYSAY's​ ​collection​ ​features​ ​ultra-feminine​ ​dresses​ ​that​ ​are​ ​infused​ ​with​ ​sensual​ ​and​ ​timeless elegance.​ ​The​ ​collection​ ​is​ ​inspired​ ​by​ ​the​ ​theme​ ​of​ ​light​ ​and​ ​movement:​ ​floating​ ​fabrics​ ​and transparencies​ ​are​ ​central​ ​elements​ ​of​ ​every​ ​design,​ ​allowing​ ​for​ ​a​ ​total​ ​freedom​ ​of​ ​movement​ ​without compromising​ ​comfort​ ​and​ ​luxury.​ ​Transparencies​ ​and​ ​metallic​ ​touches​ ​introduce​ ​subtlety​ ​and luminosity​ ​to​ ​each​ ​piece.​ ​The​ ​designs​ ​are​ ​almost​ ​like​ ​a​ ​second​ ​skin,​ ​easy​ ​to​ ​wear,​ ​suitable​ ​for​ ​the everyday​ ​life. The​ ​color​ ​palette​ ​touches​ ​all​ ​pastel​ ​shades​ ​-​ ​pale​ ​pink,​ ​light​ ​green,​ ​lilac,​ ​sometimes​ ​glittered​ ​with​ ​gold threads​ ​-​ ​and​ ​evokes​ ​a​ ​midnight​ ​walk​ ​through​ ​an​ ​enchanted​ ​garden.​ ​The​ ​collection​ ​focuses​ ​on​ ​the use​ ​of​ ​lightweight​ ​natural​ ​silks,​ ​sourced​ ​from​ ​the​ ​finest​ ​UK,​ ​French​ ​and​ ​Italian​ ​suppliers:​ ​'I​ ​like​ ​to create​ ​pieces​ ​that​ ​are​ ​paradoxically​ ​quiet​ ​and​ ​modest​ ​and​ ​surprisingly​ ​bold:​ ​dress​ ​intended​ ​to​ ​be worn​ ​time​ ​and​ ​again,​ ​to​ ​retain​ ​their​ ​appeal​ ​and​ ​grace​ ​over​ ​the​ ​years'​ ​explains​ ​Soňa,​ ​the​ ​founder​ ​and designer​ ​of​ ​the​ ​brand.
NOVANA STUDIO
Designer​ ​Nataliya​ ​Kholodylo​ ​has​ ​worked​ ​in​ ​area​ ​of​ ​Ukrainian​ ​fashion​ ​for​ ​long​ ​time.​ ​She​ ​worked with​ ​prominent​ ​Ukrainian​ ​brands​ ​and​ ​several​ ​years​ ​ago​ ​has​ ​founded​ ​her​ ​own​ ​studio.​ ​Now​ ​she works​ ​as​ ​an​ ​independent​ ​creator​ ​of​ ​female​ ​clothes for her label NOVANA STUDIO, based in Lviv, Ukraine. Her Spring Summer 2018 Collection is for independent women with a strong personality. The looks are soft and color palette is composed by white, black and red.