As the second installment of the LA Fashion Magazine's holiday spotlight, we sat down with actress Maeve Tomalty to talk about some her favorite holiday memories and upcoming projects. For those of you who may not know Maeve, she is best known for her role as Bianca on the Nickelodeon series Henry Danger on.

For those who may not know who you are yet, tell us a little bit about yourself.
"I'm 16 years-old. I'm an actor who likes long walks on the beach – ha ha ha – just kidding. I like dancing, hanging out with my friends and I'm just a super regular teenage person – er, um teenage girl who attends high school. That's about it."

I heard that you are from Canada, so how did you end up in LA?
"Actually, I've lived in a lot of different places. My parents were amazing – they moved me around a lot which I am really thankful for. So I have been around several places, but I moved to California for acting."

Acting, huh? What were you doing?
"I was in musical theater and then somebody kind of saw me and contacted me. They were like 'Hey you should come and meet us in LA.' I was just like 'What?!? Okay.' So, I met them in LA, then I moved to LA and then I booked a Nickelodeon show. That was crazy and things kind of spiraled from there."

From what I hear you have a lot going on at the moment. Someone told me something about you starting a fashion line. Tell us a little more about that.
"Well, it's currently in the works with my sister and my mom. It's a lot about female power and wearing what you want to wear and being a woman – it's being confident in yourself and finding yourself. It's about young teenage girls finding themselves and not being jaded by what's in and out and just doing what they want to do. It should be out for fall winter 2017. It's called Gémeaux. It's the French word for Gemini because Canada is both French and English – and well French is honestly just a really pretty language, so why not?"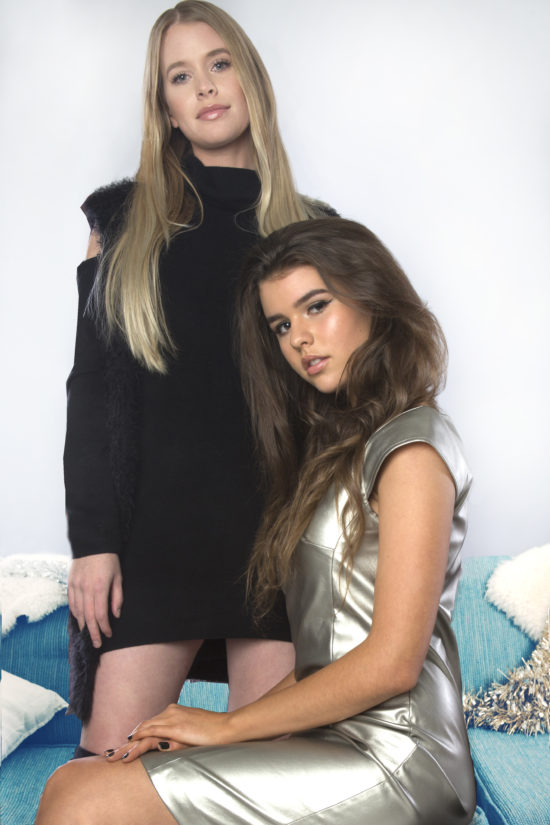 What the style of your line? What type of clothes can people expect?
"It's definitely like female edge – like glam punk. It's a mix of trendy, but also original I would say."

What's your favorite holiday meal?
"Oh food! (Laughs) I actually have pictures of me as a little girl making gingerbread men with my mom. I have always just loved gingerbread men and just cookies. Just give me all the cookies."

In addition to making gingerbread men with your mom, what other special holiday memories do you have?
"Hmmm…I'm trying to think…OOOOH! It's probably the first time that I saw snow. You'd think that as a Canadian I was just born with it and that snow was just a thing in my life, but I actually lived in the Middle East for the first six years of my life. So I didn't see snow for six years as a Canadian, but then on my sixth Christmas I saw snow. I went out with my cousin and made snow angels and was freaking out. I was like 'aaaah! It's white stuff falling from the sky that I can catch on my tongue and it's crazy!' I was just really happy. That's definitely a memory that sticks out."

Do you still love snow or have you moved on?
"Oh yeah! I love snow. I have so many pictures of me in a blizzard with a big hood over my head and I look I should be miserable, but I have a gigantic smile on my face. It's just so fun. It's so magical, you know?"

What's Christmas day like for you? Do you like to get dressed up? Are you in your PJs? Maybe both?
"I like getting dressed up for Christmas. I like getting dressed up for dinner and going to parties and stuff. New Year's Eve is so fun cause I'm definitely getting dressed up. But then you get home after dinner and get in your PJs all bundled up on the couch with your family; eating peppermint bark and gingerbread cookies and watching movies – that's definitely great. So I guess I like both."

So this year what would be your ideal New Year's outfit?
"I am thinking a tight sequiny dress that's maybe turtleneck and like some strappy heels. That's probably what I'm going to go for. I'm really liking that gold is in and I was always like this silver person, but I think I'm going to be rocking the gold on New Year's eve this year."
Maeve Tomalty
Instagram: @maevetomalty
Twitter: @maevetomalty_
Facebook: @officialmaevetomalty